This isn't even all the content we recorded on Day 1 of the show.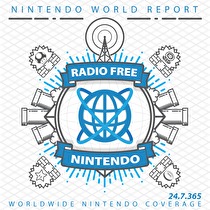 Subscribe via iTunes (Please rate and review, too!)
Note: AAC link is broken, and we're working on that. The subscription feeds will be updated soon, too. We wanted to at least get the MP3 version out for you as soon as possible. PLEASE UNDERSTAND
To kick off RFN's coverage of E3 2013, we experimented with Nintendo's new format by turning on a recorder while most of the NWR crew jammed into a hotel room to watch a Nintendo Direct at 7am. Things did not go well. Even if you're completely satisfied with the content (most of us were not), the viewing experience was abysmal. Still, we kept up our commentary the whole time, and now you can hear what it's like being Nintendo-centric media at E3, shut out of even the most biggest announcements as they happen. Thrilling!
Also included in this episode is a brief interview with Pwnee Studios from the show floor. They're the guys making Cloudberry Kingdom, which is coming out soon on Wii U eShop (and other platforms, thanks to Ubisoft). Learn about why this 2D platformer is so different from others you may have played.
There's much, much more RFN coming soon from at the show and back home, as well.
This episode was edited by James Jones.