Everyone knows that a power trio is the purest form of rock and roll.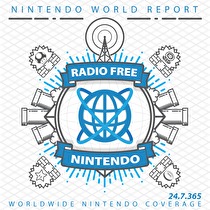 Subscribe via iTunes (Please rate and review, too!)
Jon is still dealing with his cross-country move, so it's just three of us this week as we blast through some hot new releases, games in and around PAX, and a choice selection of Listener Mail.
James goes first, because he's been playing the very newest game around -- Luigi's Mansion: Dark Moon! It's a nice group discussion, since all of us have been working through it this week. Gui continues with another exciting new game, Lego City Undercover. Even though it's not as funny as he'd hoped, our editor really likes this long-awaited Wii U release. Jonny uses his turn to cover half a dozen upcoming games from PAX East (use the handy links on the right side of this page to learn more about them). With the remaining time for this segment, we return to Guillaume for some serious Bit.Trip Presents... Runner 2 love, even though certain things drive him nuts (and leave the other guys confounded altogether).
In Listener Mail, we start with a show-stopper: Which is better, Mega Man 2 or 3? Other topics include the possibility of a virtual reality accessory for Wii U and the practice of reusing elements across multiple games from the same developer. As always, we'd love to hear from you too! Another quick programming note: since we needed more time to play Ys Book II, the conclusion to RetroActive was pushed to next episode. There may still be time to leave your comment in the official forum thread and get it read on the podcast!
Also, if you want to hear more stories and impressions from James, Gui, Jonny, and many other NWR staff at PAX East, be sure to check out the latest episode of our sister podcast, NWR Connectivity.
This podcast was edited by Guillaume Veillette.
Music for this episode of Radio Free Nintendo is used with permission from Jason Ricci & New Blood. You can purchase their newest album, Done with the Devil, directly from the record label, Amazon (CD) (MP3), or iTunes, or call your local record store and ask for it!
Additional music for this episode of Radio Free Nintendo is copyrighted to Nintendo and is included under fair use protection.