We pulled an ex-NWR favorite out of retirement for this packed episode.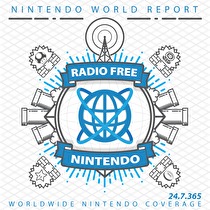 Subscribe via iTunes (Please rate and review, too!)
It's been a couple of years since Nathan Mustafa shut down the Newscast and stepped away from the site, but we've always been fans and are fortunate to have him return as a guest for this week's RFN. You might recall that Nathan is a veteran of iOS game reviews, a skill that factors into this episode at a few different points. But Guillaume has the honor/duty of going first in New Business, since we lost his audio for this segment last time. You'll hear his strong defense of Sonic & All-Stars Racing Transformed on Wii U (a chorus joined by Jonny as well), plus a very positive take on Matsuno's Crimson Shroud, a very cheap and unusual RPG just released for the 3DS eShop. James follows up on Zero Escape: Virtue's Last Reward to answer our curious questions about how this sequel takes advantage of the 3DS platform. Nathan reminds us that Harvest Moon is alive and well on Nintendo's current handheld, but he has no love for the recent iOS port of Mutant Mudds. An exacting 2D platformer with virtual buttons... what could go wrong? He also discusses New Super Mario Bros. U and wonders if anyone else is having so much trouble with the game's difficulty. Jonny cleans up the segment with his early impressions of Rocksmith, the game-like real guitar trainer, and his thoughts on a recently acquired copy of Theatrhythm Final Fantasy further cement the heavy 3DS emphasis of this week's New Business.
We recently put out a call for fresh Listener Mail through social media, and many of you responded with great ideas for the show. The latest batch of questions take us through the Android-based Ouya console, sharing Nintendo Network IDs (see list below), brainstorming Pikmin 3, Nintendo's odd approach to downloadable games, and how to push for Mass Effect Trilogy on Wii U. Send in your own questions for next time! Don't forget to keep playing Majora's Mask, and look out for a special, abbreviated holiday episode next week, followed by a rare vacation for the RFN crew before we return in the new year with lots more Nintendo talk, our top games of 2012, the live RetroActive, and maybe even a certain bald guy.
You can follow (and try to friend, space permitting) the RFN crew + Nate on Nintendo Network with these IDs:
Jonny - JonnyNWR
James - zCrimm
Guillaume - Pandareus
Lindy - (TBD - He doesn't have Wii U yet.)
Nathan - Greybrick
Also, visit this forum thread to find many other NWR staff members and fellow fans.
This podcast was edited by Guillaume Veillette.
Music for this episode of Radio Free Nintendo is used with permission from Jason Ricci & New Blood. You can purchase their newest album, Done with the Devil, directly from the record label, Amazon (CD) (MP3), or iTunes, or call your local record store and ask for it!
Additional music for this episode of Radio Free Nintendo is copyrighted to Nintendo and is included under fair use protection.