You can probably guess the big topic in our last podcast recorded before the Wii U launch, but there's also plenty of love for 3DS this week.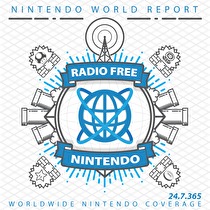 Subscribe via iTunes (Please rate and review, too!)
We're not exactly fresh off an exhausting but exceedingly successful telethon (recordings are trickling out and should be fully posted soon), but the RFN crew is glad to be back to the usual schedule, and Nate rejoins us this week. We recorded this one just a couple of days before the Wii U launch, and the excitement is palpable. Still, there's a lot to discuss around other topics such as 3DS, and Jonny gets it going with his impressions of Paper Mario: Sticker Star. For his first New Business in three weeks, James elects to start with the long-awaited Zone of the Enders HD Collection, along with its pack-in demo for Metal Gear Rising: Revengeance. He also catches up with Shinobi, the difficult but stylish ninja game released last year for 3DS. Guillaume expertly picks up the torch with Shinobi III, a Genesis classic that you can find on Wii Virtual Console and various Sega compilations. He also finds closure on a frustrating trek through Persona 3 Portable. Nate bats clean-up with his thoughts on a pair of brand-new 3DS releases, Zero Escape: Virtue's Last Reward (the sequel to 999) and Professor Layton and the Miracle Mask.
Even though we hadn't yet played our own Wii U systems and games as of this recording, it looms large over Listener Mail. The first direct reference comes with a request to assess the real meaning of Wii U's undeniable third-party support at launch, and whether this level of interest from third-party developers and publish might evaporate once Sony and Microsoft launch their next consoles. Next up is a comment on the recent spate of big-name game directors/producers leaving their companies -- and how Nintendo has managed to avoid this phenomenon. Finally, we look at a Japanese commercial in which Nintendo refers to the "Super Wii". Find out what the team thinks of this name and whether it reveals anything about the company's branding strategy. Please keep this part of the show going strong; send in your own email!
If you still haven't heard the long-lost Drunkcast featuring Karl's "Red Velvet" story, and you are of a particularly strong constitution, it can now be downloaded here thanks to many generous donors at the telethon. Also, you may want to get started on The Legend of Zelda: Majora's Mask pretty soon, as it's a long game, and we're planning to do the live RetroActive around January. The best ways to play are on N64 or Wii Virtual Console; the GameCube compilation version may be okay if you're tolerant of emulation bugs. Look for more details on this special event in the coming weeks! And next time you hear from us, it will be the year 1 A.W.U. -- anno Wii U.
This podcast was edited by Guillaume Veillette.
Music for this episode of Radio Free Nintendo is used with permission from Jason Ricci & New Blood. You can purchase their newest album, Done with the Devil, directly from the record label, Amazon (CD) (MP3), or iTunes, or call your local record store and ask for it!
Additional music for this episode of Radio Free Nintendo is copyrighted to Nintendo and is included under fair use protection.