Nick calls in from the Land of Oz to talk about Nintendo and all the hottest philosophical dilemmas in gaming!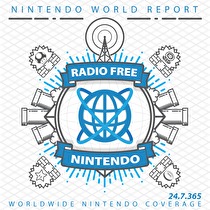 Subscribe via iTunes (Please rate and review, too!)
We've managed to keep a full quartet most weeks since Jon took his indefinite leave, but with James blinking out this week (because sports), we were just glad to have a power trio with Nick Bray as the third leg. It's his first time on RFN, but he's a long-time listener and recently did a superb Goldeneye 007 feature on Connectivity. It might also be the first time we've had someone do the show from Australia! But kicking off the games coverage is Guillaume, who's been playing the Mutant Mudds free DLC stages and finds them to plumb the very limits of the game's ideas. He also discusses a review game called 2 Fast 4 Gnomz, and it turns out this eShop game is much better than its name. Jonny drools over the potent concoction of tactics and simulation in XCOM: Enemy Unknown, while also making significant progress with Final Fantasy V Advance (owing in part to the venerable Game Boy Player). Having warmed up a bit, Nick completes New Business with his mixed thoughts on Mario Party 9, plus the ballyhooed 3DS eShop version of Shin'en's Art of Balance (TOUCH!).
After the break, we catch up on some recent Listener Mail questions. This batch addresses the spotty 3DS Virtual Console selection and a possible cause for optimism with regard to future releases of classic games on this service. Another listener (and burgeoning podcaster) requests help in responding to Internet trolls who put down Nintendo and its fans. The third letter defends a game's authorial intent against publishers, patches, and fans -- we discuss whether this is desirable, or even possible. As always, you can send in more questions for the show, and we will read every one and try to answer as many as possible.
This is the last regular episode of RFN before the telethon. If you haven't yet checked out the 3rd Annual Live NWR Podcast Telethon for Child's Play, don't wait! It's happening over several hours (we hope) on Saturday, November 10. Listen to the live antics, win prizes, call in to talk about Nintendo, and help support a fantastic charity. The special guests are too numerous and awesome to list here, so go check the full list. We'll be back for more RFN in two weeks, but hopefully you'll get the complete telethon records during the interim -- which is no excuse to miss the real thing!
This podcast was edited by Guillaume Veillette.
Music for this episode of Radio Free Nintendo is used with permission from Jason Ricci & New Blood. You can purchase their newest album, Done with the Devil, directly from the record label, Amazon (CD) (MP3), or iTunes, or call your local record store and ask for it!
Additional music for this episode of Radio Free Nintendo is copyrighted to Nintendo and is included under fair use protection.