A pirate steps into our midst, and we talk about Wii U... a lot.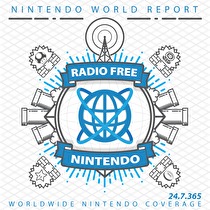 Subscribe via iTunes (Please rate and review, too!)
Our old friend Karl Castaneda steps into the fourth spot this week, but the star of the show is Guillaume, who's back from a Nintendo press event with impressions galore. Gui begins with a focus on upcoming 3DS games, including Fluidity: Spin Cycle, Crashmo, and his conversion on Paper Mario: Sticker Star. Karl follows up with the brand-new Liberation Maiden, the latest Suda 51 romp on eShop, plus some iPhone game called Letterpress. James dips back into some controversial games from weeks past, Dark Souls and Minecraft (XBLA), with plenty of harrowing stories from each. Jonny returns from his week off with another timely eShop game, NightSky, and effusive thoughts on the long-delayed quest through Final Fantasy V Advance.
For the second half of the episode, we focus on Wii U and start with the rest of Guillaume's impressions from that press event. He played a number of launch games that have clarified his expectations for the impending launch -- listen for Balloon Trip, Mario's Boost Mode, more ZombiU, Ninja Gaiden 3, and even the just-revealed Wii U version of Epic Mickey 2. James drops a surprise here, as well: he finally played the new console again for the first time since E3 2011, plus the upcoming Rayman Legends. Jonny kicks in his own rather late epiphany on Wii U as technical marvel, incited by the recent Iwata Asks. We pull it together by revising our launch title pick-up plans -- and yes, there are some surprises!
That's the bulk of the show, but we do leave with a quick preview of the 3rd Annual NWR Live Podcast Telethon -- coming up in just a couple of weeks, on Saturday Nov. 10. Please check out and bookmark the event page, and free up both your calendar and wallet for this very special day! You can also chip in an email for the show, as we'll probably get to some of your questions next week. Oh, and you should also check out Karl's website and podcast network over at Crosstawk, and Guillaume's Negative World Podcast appearance.
This podcast was edited by Guillaume Veillette.
Music for this episode of Radio Free Nintendo is used with permission from Jason Ricci & New Blood. You can purchase their newest album, Done with the Devil, directly from the record label, Amazon (CD) (MP3), or iTunes, or call your local record store and ask for it!
Additional music for this episode of Radio Free Nintendo is copyrighted to Nintendo and is included under fair use protection.