James rants about the worst game he's ever reviewed. Plus: your Listener Mail, and Metroid references throughout.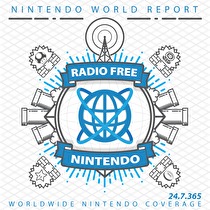 Subscribe via iTunes (Please rate and review, too!)
Over the years, some of the most memorable James rants have come from his reviews. The start of this episode is sure to join that pantheon, as he struggles to cope with the nightmare of... Crazy Hunter. No, it has nothing to do with deer. Returning super-guest Nate Andrews follows up with a game opposite in quality, the stellar Walking Dead from Telltale. Anticipating the imminent release of Crashmo, Nate also loads up Pushmo to revisit the eShop favorite. Guillaume scratches an RPG itch with Persona 3 Portable for PSP, and we consider the prospects for that series coming to 3DS. Jonny concludes the segment with updated --and significantly more jubilant-- impressions of La-Mulana, the last great WiiWare game. He also spends a few minutes on FTL, the difficult but strangely addictive space roguelike that everyone's talking about.
We emerge from the Now Playing break to catch up on just a few of the excellent emails you've been sending over the past few weeks. One listener is concerned about how expectations affect reviews. Another questions how abundant 1-ups can affect our perception of a game's difficulty. We also dig through our collections for games that are worth far more than we originally paid. This email adventure concludes with some fun speculation on how Metroid will translate to the Wii U experience. Please contribute even more great questions and ideas by sending your own email -- we read everything and use as many as possible for the show!
One last, important thing: we announced the new telethon last week, and now the event page is available to provide all the details you need, plus links to donate early. Bookmark this page, because it will be updated frequently as the planning gets hot and heavy! Plus, that's where you'll want to be on the day of the event, November 10, to access the live audio and interact with us and fellow NWR fans throughout the telethon.
This podcast was edited by Guillaume Veillette.
Music for this episode of Radio Free Nintendo is used with permission from Jason Ricci & New Blood. You can purchase their newest album, Done with the Devil, directly from the record label, Amazon (CD) (MP3), or iTunes, or call your local record store and ask for it!
Additional music for this episode of Radio Free Nintendo is copyrighted to Nintendo and is included under fair use protection.