A brand new guest helps us talk through parallel dimensions, starships, forgotten games about sand, and your reactions to the Wii U news. Plus: Which games are teens' favorites?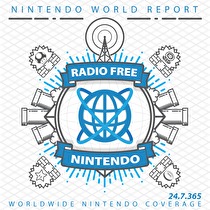 Subscribe via iTunes (Please rate and review, too!)
This week on RFN, we welcome a new voice to help fill in while Jon is taking care of business. That new voice is Nate Andrews, whom you might have heard before on Connectivity. He jump-starts New Business with a recap and discussion of his recent Fractured Soul review. Nate and James tag-team impressions for FTL, the seemingly impossible space exploration roguelike for PC. Jonny has his own space report for Q-Games' Starship Defense, a visually striking tower defense game for DSiWare. He also recommends Renegade Ops, a Blast Corp-like drivin' and shootin' game. Guillaume wraps up his thoughts on Touch Detective, and he reminds us of the awesome, Wii-exclusive Prince of Persia: Forgotten Sands (quite different than the other console versions).
We return to Listener Mail this week with an unusually large batch of questions, each dispatched rather efficiently. Several involve hand-wringing over the Wii U price, bundles, backwards-compatibility, a digital copy of Nintendo Land, etc. We also get some really interesting survey results from a high school teacher who wanted to know what games are most beloved by today's students. Keep these conversations going, and start your own, by sending in a letter for the show!
If you're having trouble with Kirby and the Amazing Mirror, or just haven't started it yet, head over to the RetroActive forum thread for some handy tips and the nascent group discussion. We'll be covering it on the podcast very soon!
This podcast was edited by Guillaume Veillette.
Music for this episode of Radio Free Nintendo is used with permission from Jason Ricci & New Blood. You can purchase their newest album, Done with the Devil, directly from the record label, Amazon (CD) (MP3), or iTunes, or call your local record store and ask for it!
Additional music for this episode of Radio Free Nintendo is copyrighted to Nintendo and is included under fair use protection.