Billy drops in to tell us about Paper Mario, Fluidity, and that other, RFN-less Penny Arcade Expo.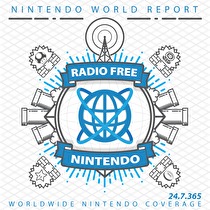 Subscribe via iTunes (Please rate and review, too!)
With James on travel this week, we brought in the veteran RFN guest and world-renowned Nintendo guru, Billy Berghammer. It was good timing, because Billy just got back from PAX Prime 2012, where he played a couple of hot upcoming 3DS games in Paper Mario: Sticker Star and Fluidity: Spin Cycle. He also catches up with Nintendo Land and talks about the expo's slate of panels (nothing much for Nintendo fans!) and impressions of the Nintendo booth and other game exhibitions at the show. Gui finally catches up with the fantastic Virtual Console localization of Monster World IV, but he's much less happy with the DS sleeper hit known as Hotel Dusk. Jon rediscovers Monster Hunter Freedom Unite on his PSP, which leads us to preview the upcoming Monster Hunter 4 that will shake up 3DS in Japan at the looming Tokyo Games Show. Jonny completes the cycle with the astonishingly modern Wario Land (1) and a superb action-adventure remake, Ys: The Oath in Felghana.
Listener Mail was so much fun last week, we decided to dip back into the well. This week's letters cover the futility of fan-made game mods, the anti-Nintendo shadow conspiracy, controller options for Wii U backwards-compatibility, and the best/worst kinds of game bosses. Chip in your own ideas and questions for the RFN crew to ponder next time!
Don't forget to vote in the new RetroActive poll for which Kirby game we'll be playing together -- time is running out! And if you'd like to check out those sweet NWR podcast t-shirts, we'd really appreciate that as well. See you next week for a discussion of the hot new Wii U launch details from that September 13 press event!
This podcast was edited by Guillaume Veillette.
Music for this episode of Radio Free Nintendo is used with permission from Jason Ricci & New Blood. You can purchase their newest album, Done with the Devil, directly from the record label, Amazon (CD) (MP3), or iTunes, or call your local record store and ask for it!
Additional music for this episode of Radio Free Nintendo is copyrighted to Nintendo and is included under fair use protection.