On this episode: 3DS remorse, Wii U impressions, another Mario mod, and a very memorable Listener Mail segment. Plus: another RetroActive!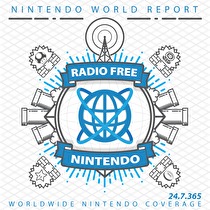 Subscribe via iTunes (Please rate and review, too!)
Ladies and gentlemen, we present the return of... Jon Lindemann. It's good to have him back after a couple of weeks when he was pulled away from the show against his wishes. Jon gets the ball rolling with his thoughts on Muramasa: The Demon Blade, Gran Turismo PSP, and his disappointment with the 3DS lineup in 2012. Jonny follows with a report on his visit to the Wii U Experience in Denver, which is very much reminiscent of the old Cube Clubs and features many notable Wii U demos from E3. But will it convince Nintendo fans who still don't know the price, release date, or launch lineup? James doesn't have the answer, but he does have wrap-up thoughts on Rhythm Thief, which is pretty short (but maybe pretty long for a narrative rhythm game). Guillaume completes the set with his continuing trek through New Super Mario Bros. 2 and cautious optimism over the demo for a fan mod called Super Mario Galaxy 2.5, which is still a long way from completion.
The show only gets more passionate in the latter half, as we do some much-needed catching up on Listener Mail. The first letter is on violence and games, with a particular focus on other mainstream activities that seem to escape the constant charges of negative influence on the minds of babes and loonies. We also go deep into emails about must-have interface features and Nintendo's abandonment of motion control with Wii U. In all, it's probably one of the most intense and stimulating Listener Mail segments we've had in a while! You can help make it happen again soon by submitting your own questions for the RFN crew.
In the outro, Jonny has a surprise announcement: the next RetroActive is starting immediately, and the theme is Kirby's 20th anniversary! You've got less than two weeks to vote on which Kirby game we should collectively play and discuss, so get to it before you forget! Voting is quick and easy -- and if you're not sure which game to support, look for comments in the poll thread that might help.
This podcast was edited by Guillaume Veillette.
Music for this episode of Radio Free Nintendo is used with permission from Jason Ricci & New Blood. You can purchase their newest album, Done with the Devil, directly from the record label, Amazon (CD) (MP3), or iTunes, or call your local record store and ask for it!
Additional music for this episode of Radio Free Nintendo is copyrighted to Nintendo and is included under fair use protection.