The boys are back in town with some final thoughts on E3 2012. Final until the next episode, that is.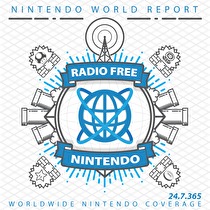 Subscribe via iTunes (Please rate and review, too!)
It's so very good to be home. Guillaume and Jonny are back from E3 to rejoin Jon and James, who kicked ass on the Home Team along with many other stellar NWR staff members. After a week of obsessive reporting on Nintendo and E3, you'd think we would be sick of it all. Instead, we had to carefully watch the clock to make sure we didn't record too much for GUI to handle this weekend!
We ease into the E3 talk with a weird prologue of Disaster: Day of Crisis and Pandora's Tower, courtesy of James. Then our resident FPS fan, Mr. Lindemann, muses on the possibilities for Call of Duty: Black Ops 2 (and the Elite service) on Wii U. Guillaume shares his positive impressions of Epic Mickey: Power of Illusion for 3DS and New Super Mario Bros U. Jonny had a few games in mind for this segment, but a segue into New Super Mario Bros 2 (the 3DS one...) derails the rest of the segment as we collectively inquire why this game exists and how it could turn out to be a good thing.
Right before the Now Playing segment, you can listen to interviews about Cloudberry Kingdom, The Last Story, the Legend of Zelda: Symphony of the Goddesses tour and Epic Mickey: Power of Illusion. Each in their own chapter for your convenience!
But the inquiries don't stop there! Listener Mail offers an amusingly lop-sided pair of letters. The first is a simple list of over a dozen quick-fire E3 questions, mostly focused on the Wii U controllers and other non-software topics. The other is a very short, simple inquiry about how Nintendo uses this annual showcase, and naturally, that's the one that sends us into an astonishing tirade on Nintendo's overall performance at E3 and how it may or may not affect the eventual fate of their new console and its already-forgotten handheld cousin. We'll cover more emails very soon, and yours could be one of them! Just use this handy web form.
Other things mentioned on the episode that you should investigate: the NWR Exclusives channel on YouTube; that Hip Tanaka music podcast with Jonny and TYP; the RFN/Connectivity t-shirt store; and the RetroActive nomination thread in our forums.
This podcast was edited by Guillaume Veillette; the interviews were edited by Jonathan Metts.
Music for this episode of Radio Free Nintendo is used with permission from Jason Ricci & New Blood. You can purchase their newest album, Done with the Devil, directly from the record label, Amazon (CD) (MP3), or iTunes, or call your local record store and ask for it!
Additional music for this episode of Radio Free Nintendo is copyrighted to Nintendo, and is included under fair use protection.