Bear with us, please. The podcast is going through structural renovations.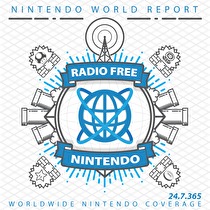 Subscribe via iTunes (Please rate and review, too!)
Ladies and gentlemen, we present the newest member of the Radio Free Nintendo family: Guillaume Veillette. On his first episode as a regular member and our new official editor, we spend some time getting to know this mysterious fellow with his own alluring accent. But first, New Business! Sadly, James had to miss this week, so you'll have to wait a little longer for the entire crew to form Captain Planet (GameCube). Therefore, Jonny kicks it off with a renewed dalliance with Mario Kart 7, now that the online mode has been patched to be far more bearable. (If you haven't already joined the NWR "Communities", be sure to do that now!) He also adores The Walking Dead's first episodic entry from Telltale Games, who continue to push the point/click adventure way beyond a simple revival. Lindy focuses on a single game, but it's a big deal: Diablo 3. We compare it to the imminent Heroes of Ruin for 3DS and also ponder if this mega-hit from Blizzard would make sense on Wii U. Guillaume closes the segment with a laundry list of games, starting with an old favorite: Link's Awakening DX. He also test out a pair of WiiWare titles recently offered up on Club Nintendo: Intelligent Systems' Eco Shooter: Plant 530 and Skip Ltd.'s Snowpack Park. Which boutique studio will come out on top in this duel of the free games?
After an especially awkward Now Playing (as it should be), we return to Guillaume himself and ask a series of interview-style questions to catch up with our newest cohort. How did gaming help him learn English? What are his favorite games and genres? How did he end up doing podcasts? What are his other interests? And what's his preferred style of poutine? We hope his answers will help get you up to speed so we can focus on building up the new chemistry. And on that note, we also address some of your Listener Mail! This week's letters cover Nintendo's exclusive deals with GameStop, the future of consoles as subscription-based devices, and the ongoing efforts of Operation Rainfall. We're still digging through a big pile of wonderful emails, but don't let that keep you from adding your own to the stack!
This podcast was edited by Guillaume Veillette.
Music for this episode of Radio Free Nintendo is used with permission from Jason Ricci & New Blood. You can purchase their newest album, Done with the Devil, directly from the record label, Amazon (CD) (MP3), or iTunes, or call your local record store and ask for it!
Additional music for this episode of Radio Free Nintendo is copyrighted to Nintendo, and is included under fair use protection.