The gang is back together to celebrate the New Year with --what else?-- New Business! Plus: Zelda + Retro?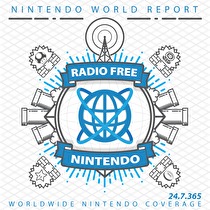 Subscribe via iTunes (Please rate and review, too!)
This episode has so much New Business, we had to split it into two segments! Greg is up first with Mighty Switch Force for 3DS. He greatly enjoys this eShop title from WayForward, but Jonny is more critical of the game. Greg also experiences Mega Man X2 for the first time, thanks to Japan's Wii Virtual Console, inciting exuberant memories from James in particular. Next up is Jon, returning after three weeks gone from RFN, and he's got... shooters. Of course! Jon managed to complete all of Resistance 3 and Halo: Anniversary, which takes us briefly into the subject of The Conduit for 3DS. He also made some headway on Uncharted 3, yet has not found time to revisit Zelda since his 30-hour spearhead in the game's launch week.
After a quick break, James picks up with a surprising discussion of Animal Crossing: City Folk. It even leads us to a a round of speculation on where the series is headed next on 3DS and Wii U. Will he fulfill a promise of Wii Speak ranting next week? Jonny seals the deal on this epic New Business with a lightning round of impressions for VVVVVV (eShop version), SwapNote, Game Type (an oddly named project from our friends at Mommy's Best Games), and Aquaria, the Metroid-style underwater adventure. He also boasts of a new gaming PC that will surely inform upcoming episodes.
Finally, we wrestle with a single but searing Listener Mail question about Miyamoto's recent musings that Retro Studios could become involved with the Zelda franchise. As you'd expect from this bunch, we have some strong opinions on whether this could actually happen, and what it would mean for the series if so. We'll answer more letters soon, so let us know what you want to hear about! Oh yeah, and it's finally time to kick off the 21st edition of RetroActive. Your options are Wario Land 4, Fire Emblem: The Sacred Stones, and Kirby & The Amazing Mirror. Many of you already have all three ready to go on your 3DS, so we hope there will be record-setting participation. Of course, all of these games can also be found on the original GBA cartridge format if you're so inclined! Head over to this forum thread to vote for which GBA Ambassador game we should play and discuss together on a future show. Do it right now!
This podcast was edited by Greg Leahy.
Music for this episode of Radio Free Nintendo is used with permission from Jason Ricci & New Blood. You can purchase their newest album, Done with the Devil, directly from the record label, Amazon (CD) (MP3), oriTunes, or call your local record store and ask for it!
Additional music for this episode of Radio Free Nintendo is copyrighted to Nintendo, and is included under fair use protection.