RFN assembles to share our shocking lists for the Top 5 games of 2011!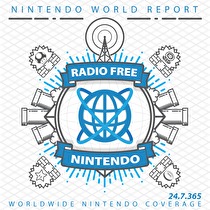 Subscribe via iTunes (Please rate and review, too!)
Sad news: Jon is still AWOL from the show. Good news: We don't need his sorry ass! Well, we do wish he was around but things tend to get crazy around the holidays, so we must go to battle with the forces we have. Anyway, James kicks it off with an update on the insufferably quirky Fishing Resort. Greg continues his affair with Mario Kart 7, shares a few thoughts on the GBA Ambassador launch, and debuts a surprise game that will delight and terrify long-time listeners! Jonny drives it home with his blooming adoration for Pushmo and an exuberant response to the new Club Nintendo awards.
Returning from the break, we divulge our personal Top 5 games of 2011 for Nintendo platforms. The rankings will assuredly ruffle feathers, which is frankly why we do them, and going around the virtual table gives us ample opportunity to revisit a great number of wonderful video games from throughout the year. We've also got honorable mentions and a few favorites from non-Nintendo systems, so perhaps your favorites will be represented at some point. If not, send in your list through this handy email form and maybe we'll read it on next week's special Christmas episode! (Note: due to the holiday, Ep. 272 will probably be posted a day or two later than normal. Don't freak!)
This podcast was edited by Greg Leahy.
Music for this episode of Radio Free Nintendo is used with permission from Jason Ricci & New Blood. You can purchase their newest album, Done with the Devil, directly from the record label, Amazon (CD) (MP3), or iTunes, or call your local record store and ask for it!
Additional music for this episode of Radio Free Nintendo is copyrighted to Nintendo, and is included under fair use protection.