In this episode, we talk about brand new games, and Jon pays tribute to the Queen in his own special way.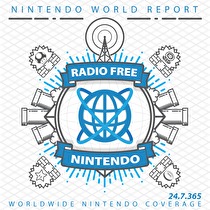 Subscribe via iTunes (Please rate and review, too!)
Greg kicks off this episode with his own take on Xenoblade Chronicles, specifically the British voice-acting from the same crew who brought you Dragon Quest VIII on PS2. He also has first impressions of Aliens: Infestation from Sega and WayForward, which is out in Europe a bit ahead of America. Jon finally catches up with Shadow Complex, the superb 2D action game for XBLA directly inspired by Super Metroid. Jonny returns to the long-neglected Dragon Quest VI and also checks out the just-released free version of Zelda: Four Swords Anniversary Edition on 3DS (and DSi). Finally, James initiates review season with his thoughts on Bit.Trip Saga, the 3DS collection of Gaijin Games' WiiWare series.
In Listener Mail, Greg responds to numerous inquiries about his Buffalo Bills challenge from a few weeks ago, whose deadline passed much faster than anyone could have expected. A friend in Japan provides another data point on the piracy vs. used debate, although you could easily miss the content of his letter thanks to Jon's mangling of it. Next is yet another discussion of the impact of smartphone gaming on Nintendo's plans for 3DS and whether there might be space for them to successfully coexist. Last up is a question about Wii U prospects for Ni no Kuni, the gorgeous RPG collaboration between Level 5 and Studio Ghibli.
But wait, there's more! We also announced nominees for RetroActive #20. Do your duty as a fan by voting in the poll -- it's quick and easy! If you're not sure which game to pick, read through the forum thread to hear what other people are saying about these games. We'd also love to hear from you via email; you can use this handy contact form.
This podcast was edited by Greg Leahy.
Music for this episode of Radio Free Nintendo is used with permission from Jason Ricci & New Blood. You can purchase their newest album, Done with the Devil, directly from the record label, Amazon (CD) (MP3), or iTunes, or call your local record store and ask for it!
Additional music for this episode of Radio Free Nintendo is copyrighted to Nintendo, and is included under fair use protection.