We reunite to review E3, answer tons of emails, and share dirty jokes.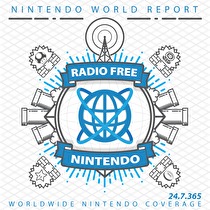 Subscribe via iTunes (Please rate and review, too!)
It's so good to be back! We've got the complete quartet ready for your listening pleasure. Jon and Greg have been keeping fairly busy these past two weeks while James and Jonny were goofing off at E3. To get everyone caught up, we recorded this lengthy, three-segment episode just for you! It kicks off with a recap of E3 itself, including our overall evaluations of Nintendo's performance and the future of both 3DS and Wii U. We also get a perspective of the show from the home-bound (and frankly, better) half of RFN.
In the middle, we turn in a typical but meaty New Business with two weeks' worth of games, including our first entries from the 3DS eShop. Jon's infamous Chrono Train rolls into the station, and he ponders the meaning of his own existence following the completion of this life-long gaming goal. Greg reports on X-Scape, the weird DSiWare game about 3D space tanks that is now available through the 3DS eShop; he also plays Link's Awakening for the first time and drops premature impressions on Ocarina of Time 3D! James eschews new-fangled systems to visit Lunar Knights on (2)DS, the spiritual successor to Boktai from Kojima Productions. Jonny ends with a very brief jaunt through Super Mario Land, the delirious AlphaBounce (more DSiWare -- is this a new record?). He also searches for the Japanese word for "bro" to describe Platinum's third-person shooter, Vanquish.
Hey! You guys and gals wrote a boatload of questions about E3, Wii U, 3DS, Skyward Sword, and more Wii U, so we answered as many as we could in a rousing edition of Listener Mail! Gird your loins for this massive dose of RFN-derived opiates because we want to make you see fantastical visions and then fall asleep. You'll need that energy for next week, when we finally complete the Perfect Dark edition of RetroActive! The forum thread is still going strong, and you have one last chance to post your comments for a chance to be read on the show! See you next week. PEACE.
This podcast was edited by Greg Leahy.
Music for this episode of Radio Free Nintendo is used with permission from Jason Ricci & New Blood. You can purchase their newest album, Done with the Devil, directly from the record label, Amazon (CD) (MP3), or iTunes, or call your local record store and ask for it!
Additional music for this episode of Radio Free Nintendo is copyrighted to Nintendo and Square Enix, and is included under fair use protection.