In this week's New Business... a 3DS hands-on report! Also, we catch up on Listener Mail.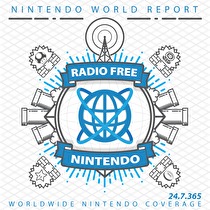 Subscribe via iTunes (Please rate and review, too!)
On this special episode of RFN, we kick off with a tri-continental version of New Business, as James Charlton reports on the recent 3DS event in Japan while Greg and Jonny ask him annoying questions. James recaps the game impressions he already posted here at NWR and also tells us about his overall thoughts on seeing and playing 3DS just a few weeks before its launch in Japan.
After that, Jon and James (Jones) return for a full-on buffet of Listener Mail collected over the past few weeks. Big topics include horror in video games, Retro's next game after DKCR, reasons for high prices in Europe, our views on both the Sonic and Resident Evil series, and finally, which HD console is best for a Nintendo gamer.
The next edition of RetroActive is coming up soon, and you have just a few days left to vote before the poll ends on Thursday, Jan. 20!
This podcast was edited by Greg Leahy.
Music for this episode of Radio Free Nintendo is used with permission from Jason Ricci & New Blood. You can purchase their newest album, Done with the Devil, directly from the record label, Amazon (CD) (MP3), or iTunes, or call your local record store and ask for it!
Additional music for this episode of Radio Free Nintendo is copyrighted to Nintendo, and is included under fair use protection.