When it comes to 3DS news analysis, we just can't help ourselves.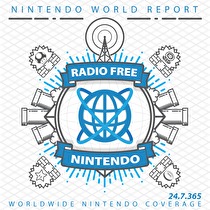 Subscribe via iTunes (Please rate and review, too!)
Jon is taking a month-long hiatus from RFN while he moves to a new city, and we're very pleased to have Michael "TYP" Cole fill his seat this week. Mike is riding the Ufouria joy train but may be derailed by crappy touch-screen controls for Dark Void Zero. James finally returns to reviews with a withering overview of Pirates! for Wii, but he's somewhat happier with ESPN3 support in the New (New) Xbox Experience. Greg reflects Treasure-envy by "importing" Silhouette Mirage, a game famously ruined during its English localization. Jonny catches up with Sin & Punishment 2 and shares some final thoughts on Spidey's latest DS adventure.

While we usually leave news analysis to the Newscast, this week's 3DS event was so big that we figured you could handle two podcasts covering it. We share our thoughts on the price, release date, game announcements, hardware features, etc. That discussion segues beautifully into Listener Mail, where we answer your questions about Nintendo's possible arrogance with 3DS pricing, whether to upgrade now to DSi or wait for 3DS, and a quick word on Animal Crossing and Memory Card 59.

The votes are in, and our next RetroActive game is Yoshi's Story (N64)! Dredge your memories or play along with us, and if you don't have the game, it's easy enough to download from Virtual Console for 1000 Wii points. Then hit up the official thread to post your comments on the game -- we'll pick the best to read on RFN!

This podcast was edited by Greg Leahy.
Music for this episode of Radio Free Nintendo is used with permission from Jason Ricci & New Blood. You can purchase their newest album, Done with the Devil, directly from the record label, Amazon (CD) (MP3), or iTunes, or call your local record store and ask for it!
Additional music for this episode of Radio Free Nintendo is copyrighted to Nintendo, and is included under fair use protection.