With Jonny away on manoeuvres (playing Bangai-O Spirits), the crew welcomes Japan Correspondent Matt Walker into the fold to get the lowdown on Wii Sports Resort and the launch of Dragon Quest IX.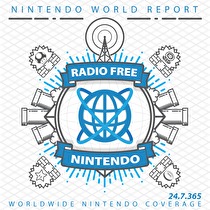 Subscribe via iTunes (Please rate and review, too!)
It's always a pleasure to welcome a new member of staff to RFN, and on this occasion we had the timely opportunity to hear from our new Japan Correspondent, Matt Walker, on the biggest gaming event of 2009 in the Land of the Rising Sun: the launch of Dragon Quest IX. After getting to know our new colleague (and ourselves) a little better to begin the show, we hear Matt's impressions of the long-awaited DS RPG, as well as his thoughts on the final version of Wii Sports Resort.
There's no shortage of games for the rest of the crew to discuss in New Business; James and Jon discover the strategy games of the past reborn on DS with Front Mission and Fire Emblem, and Greg tries to stay in rhythm as Ouendan 2 becomes the latest title in his recent string of music games. In the second segment, RetroActive #7 comes to a close with a bloodcurdling digitised howl before we respond to your questions in Listener Mail, including: the dos and don'ts of using Wii Speak, a puzzling hiatus for the Mario Party series, and a look back at our favourite RetroActive moments so far.
Credits:
This podcast was edited by Greg Leahy.
Music for this episode of Radio Free Nintendo is used with permission from Jason Ricci & New Blood. You can purchase their newest album, Done with the Devil, directly from the record label, Amazon.com, or iTunes, or call your local record store and ask for it!