Billy joins us for a happy walk down memory lane on the website's 10th anniversary.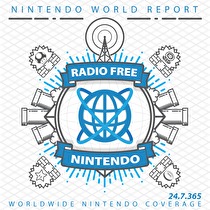 Subscribe via iTunes (Please rate and review, too!)
Yeah, I went there with the Proust reference.


You may have heard that our site is relaunching for the 10th anniversary of Nintendo World Report (a.k.a. Planet GameCube, a.k.a. Planet N2000). Lindy was too busy with the relaunch to record with us, so we looked all the way back to the beginning for a substitute. You may have heard of Billy Berghammer at some point. He's at G4 now, so you might even see him on TV soon. And he created our little website sometime in the previous millennium.
Before we wax nostalgic, Billy gives us a bit of New Business, most notably the new Final Fantasy: Crystal Chronicles game for Wii and DS. There's also a news pit stop to cover the announcement of A Boy and His Blob for Wii.
Most of this episode is comprised of the retrospective, though. Billy talks about how the site got started, and Jonny soon jumps in with his side of the early days. They're both a little embarrassed at some early content, which can still be found at the Internet Archive. James and Greg are along for the ride here; they were both avid readers of the site from the early days, but the veterans are mostly interested in sharing behind-the-scenes memories. We get into E3s, Spaceworld, videotapes and DVDs, domain sniping, secret vacations, experiences at Nintendo headquarters, our favorite swag, and a lot more. We hope you enjoy this bucket of memories, and write in to tell us about your own!
NOTE: The RetroActive discussion of Eternal Darkness will begin next week; we didn't want to start without Jon, and we couldn't have fit it into this special episode. Be sure to leave your comments about the game in the RetroActive forum thread!
Credits:
This podcast was edited by Greg Leahy.
Music for this episode of Radio Free Nintendo is used with permission from Jason Ricci & New Blood. You can purchase their new album, Rocket Number 9, directly from the record label, or download it from iTunes, or call your local record store and ask for it!
The closing music for this episode of Radio Free Nintendo, "SuperBuckJazz" composed by Estradasphere for OCRemix, is included to make owners of a certain 2002 DVD smile.