You're too slow!
With all of these 3D Classics from Sega, the emulation quality is outstanding. As usual, developer M2 expertly replicates the experience of playing a classic, in this case, the original Sonic the Hedgehog, giving you options to play it as it was in 1991, as well as how it would be on an improved piece of hardware in 2013. In Sonic's case, his more than 20-year-old adventure is still a fun albeit flawed adventure that is made more friendly and entertaining because of M2's excellent emulation effort.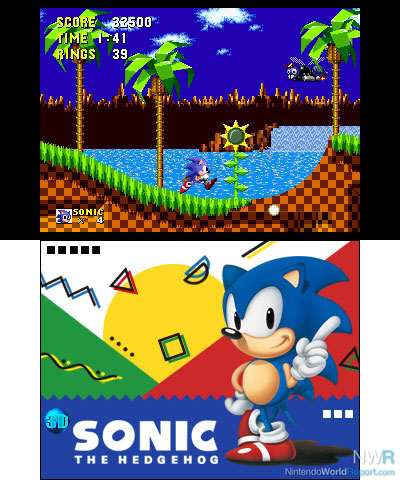 The amount of video and display options at your disposable is wondrous without being too overwhelming. You can pick between having the stereoscopic 3D "fall in" or "pop out" and even view the screen like it's on a rounded, muddled CRT TV (as you likely would have in the early '90s). It's a silly touch, but the authenticity is astounding. The rest of the settings are minutia, including picking between the International and Japan release and whether it is emulated on the first Genesis system or the second one.
The level select, hidden by a cheat code originally, can be accessed from the start at the press of a button, which is handy if you want to jump around the six zones. The Spin Dash, Sonic's ability to charge up speed while stationary, was introduced in Sonic the Hedgehog 2, and now can be optionally added in. It highlights why the mechanic was added in the sequel, as certain sections are easier with the its inclusion.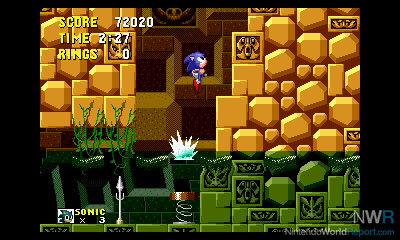 Sonic the Hedgehog retains the fun platforming that challenged Mario back in the day. The emphasis on speed is fun, but many areas feature constant stopping. Speed might be the hedgehog's game, but when you're standing on a block moving through lava, watching out for falling platforms, or dealing with the slow-paced insanity of the water-logged Labyrinth Zone, the zest for speed is killed. What's left is still good, especially with the awesome music, but it is often slowed down.
Regardless, if you hold nostalgia for Sonic the Hedgehog, this 3DS version is excellent, as it is a stellar enhanced port of a fun game, game design rough edges and all. We can all hold out hope for Sega to bring the far superior Sonic 2 to the 3D Classics line in the future, but for now, the speedster's debut is fine.