Fashion frenzy.
Prior to this review, I had never played a game in the Style Savvy series, which is odd, because I owned both of the previous 3DS entries: Trendsetters and Fashion Forward. Those were games that I had gifted my wife, who absolutely adores fashion, as well as simulation video games. Me, on the other hand, well… let's just say I'm a little bit fashion-challenged (not unlike many of the characters you'll come across in Styling Star!). My lack of interest in the series has been based on its fashion themes, one I always figured that because I couldn't relate to it, I wouldn't find the games enjoyable. The series' fourth entry, Styling Star, proved me wrong on every level, and surprised me at almost every turn.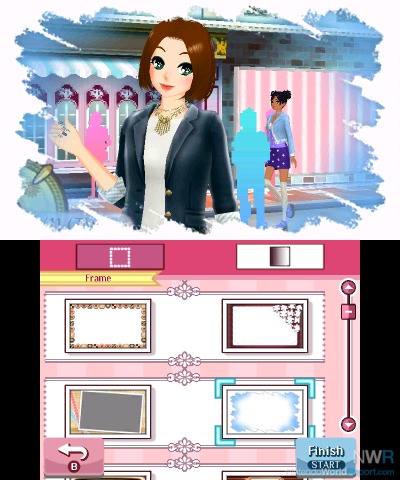 At its core, the Style Savvy series appears to be a fashion simulator. You assume the role of the new girl in town who inherits her uncle's small boutique. It's your task to turn it into the city's hottest stop for all things trendy, glitzy, and glamorous while your uncle chases his dreams elsewhere. The setup is pretty basic in the early goings, but the plot actually develops into an interesting tale with characters that had way more depth than I was expecting in a game of this genre. Dozens of people visit your boutique and move into your city, each with their own personality and fashion taste. But it's characters like Rosie, a young girl that just moved to the city from the country and seeks to become a star, that really give Styling Star a more lively aura than other games in its category. I was genuinely invested in Rosie's success, because I grew to care about her as a character. That's something I wasn't expecting going into Styling Star.
It's not just the setting and characters that make Styling Star so great, though. An insanely addictive gameplay loop at the center of Style Savvy will likely keep you up way past your normal bed time if you're not careful. Managing your store requires purchasing new outfits from several vendors of varying styles, listening to customer desires, and matching their personalities to the right clothing and accessories that will make them happy enough to reward you with their cash and friendship. Helping customers like Rosie slowly increases the amount of hearts they have for you, similar to games like Harvest Moon or Stardew Valley. The more hearts you have, the more you'll learn about that character's story. Helping customers also has the added effect of leveling your avatar up as a fashionista, which unlocks new areas of the town to explore and new vendors for you to buy outfits from. Every little thing you do in Styling Star is accompanied by a sense of progression, regularly leading to the "just one more day" mentality.
What really works in Styling Star's favor for someone like me, who has no clue about fashion whatsoever, is the user-friendly search functions. Your store's stock can be searched using all sorts of categories, from clothing type to style. If a customer says they want a "girly accessory," you can simply select "girly" from the search menu and go to the accessories tab and select whatever one you think is best for her. I used this search function a lot in the early part of the game until I began to build up enough confidence in my fashion sense that I was able to try putting together outfits on my own without its help. It's a smart inclusion to a game, and without it I probably would have felt overwhelmed and frustrated at the start as a fashion newbie.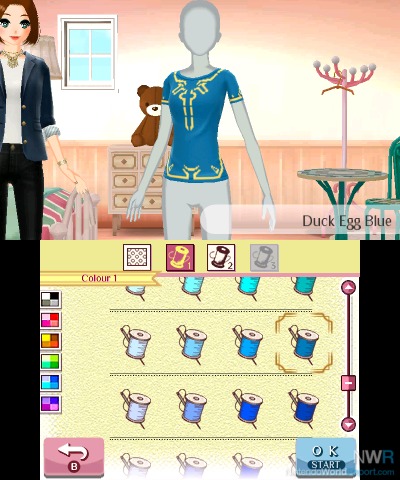 When it comes to the presentation, Styling Star isn't the prettiest title on the 3DS, but the aesthetic is good enough. The characters' faces and movements look robotic, but the vibrancy of the colors, outfits, and hairstyles help make the mannequin-like models more attractive. The music, though, is pretty solid. You're allowed to change the kind of music that plays in your boutique as you unlock more songs, and many of them are catchy enough that I found myself humming them as I went about my day in real life.
Despite hearing great things, I wasn't expecting to fall in love with Style Savvy: Styling Star the way that I did. I wasn't prepared to get sucked into a fashion simulator, literally spending dozens and dozens of hours matching the colors of a bag to a customer's dress. I certainly didn't expect to find characters whose success I was even remotely interested in. It's a fantastic boutique sim that is fun to play, even if you don't know a thing about fashion. I certainly didn't, but I'd be hard-pressed to show you a game I was more addicted to than this one over the last year.