Nintendo's biggest game ever breathes bold and unique new life into both Zelda games and open-world adventures.
About 20 years ago, Nintendo launched two genre-defining video games: Super Mario 64 and The Legend of Zelda: Ocarina of Time. Both games took existing series and transformed them into something brave and new, setting forth a pattern that nearly all Mario and Zelda games followed from then on. After those many years, Zelda's next evolutionary step has arrived in The Legend of Zelda: Breath of the Wild, the massive open-world game that completely redefines what a Zelda game is all the while delivering one of the best Nintendo games in recent memory. Except this isn't like Ocarina of Time, which was essentially Link to the Past in 3D. No, Breath of the Wild is the equivalent of Super Mario 64 for the Zelda series, and the results are incredible.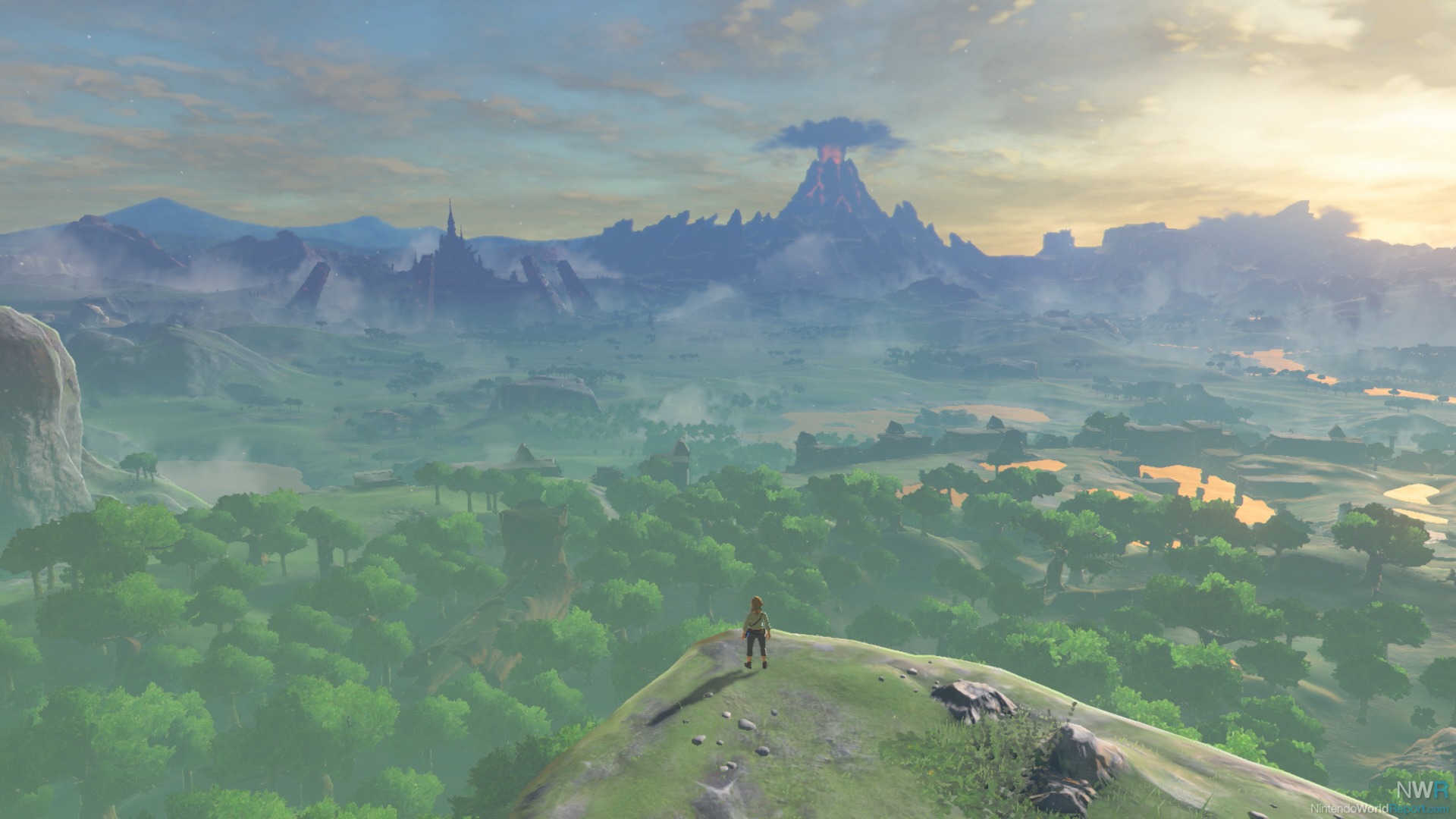 The very setup of Breath of the Wild seems like a direct response to growing criticism of Skyward Sword and Twilight Princess. Instead of a dialogue-heavy and long-winded tutorial, the intro drops you right into the middle of the action on The Great Plateau with just cursory guidance. The Great Plateau is one of the most effective tutorials I've ever seen as it works as a brilliant self-contained opening that also lays down the foundation for the entire game's progression. It all works like this: gather some story quests to give you a modicum of direction and then aimlessly wander around looking for mini-dungeon-like Shrines and hidden collectible Koroks while taking down whatever monsters and vicious elements you come across.
The Shrines, quite possibly my favorite addition, are laid out all throughout Hyrule and offer up challenges that can take anywhere from a few minutes to a half hour. Some are simple one-room puzzles, while others contain multiple themed puzzles. Some of the more involved Shrines are tied to overworld challenges, like mazes and boss fights. 120 of them are out in the wild, and once found, they also function as fast-travel points, which are integral to fully exploring the land. When completed, the Shrines give you Spirit Orbs that are used to upgrade your health and stamina. They are intrinsically linked to progression, and make up the bulk of Breath of the Wild's dungeon-like content.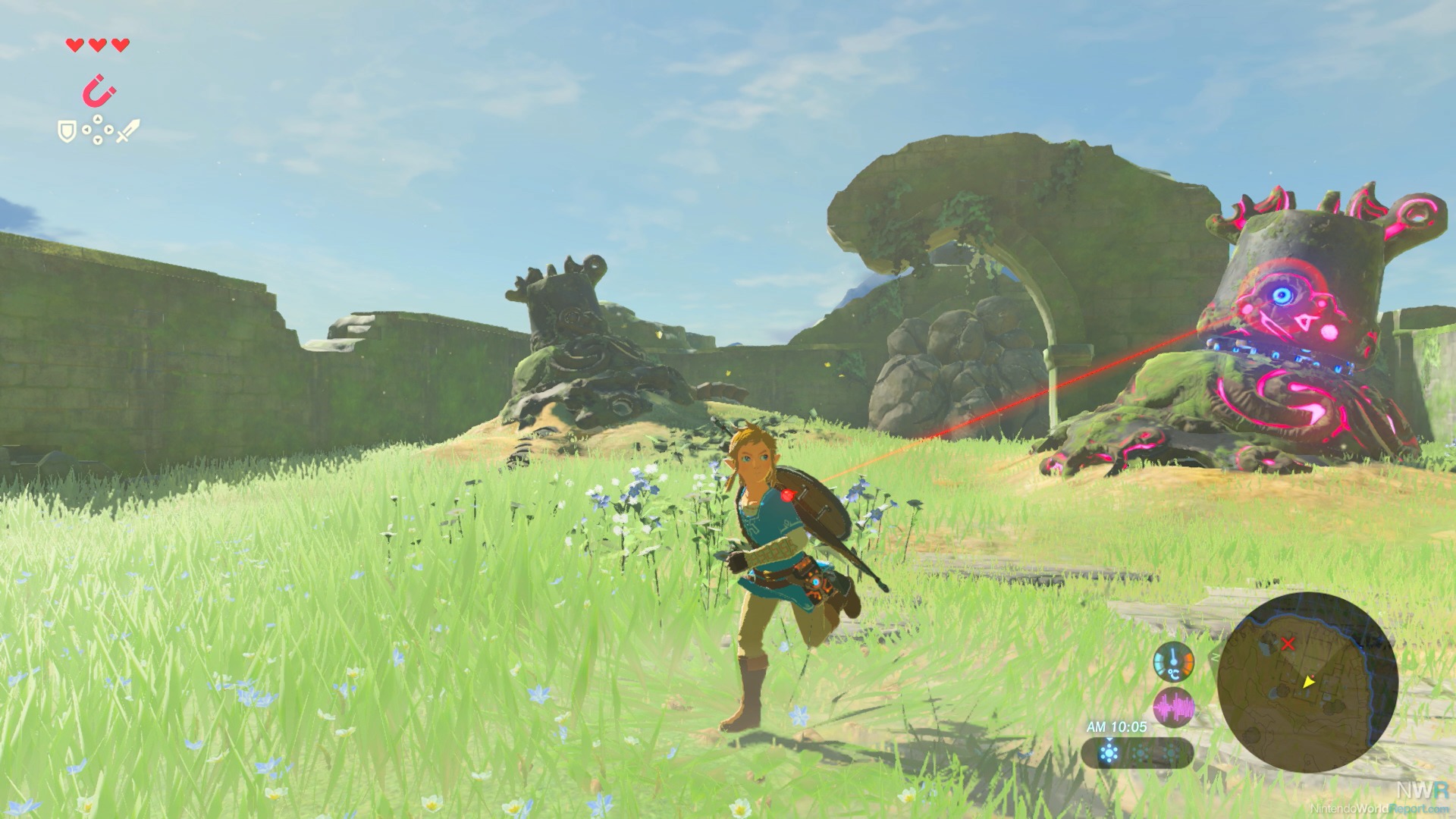 Aside from the Shrines, Breath of the Wild has a few other dungeons that are only slightly more complex. While these dungeons have a few neat tricks and puzzles, they feel mostly insubstantial, especially compared to some of the masterful dungeons in past 3D Zeldas. They're cool but not memorable, mainly because the majority of them have a similar staid style. The main hook of each is a way to manipulate your surroundings on the map (e.g. rotate a room 90 degrees or tilt the dungeon). That could be cooler if everything else wasn't so formulaic. The goal of every dungeon is to find five terminals and then fight a boss. That's it. You can't even make use of the open-ended and creative mechanics on full display elsewhere either.
Fortunately the disappointing dungeons don't mess with the brilliance of the open-world, which is an absolute joy to explore. In a corny way, the overworld might just be the biggest and greatest dungeon the series has ever seen. I often would spend hours just wandering around Hyrule, looking for Shrines and other secrets. The various nooks and crannies all have some reward, even if as you get later into the game, the reward might be a super low-tier weapon or item that you instantly discard. In general, discarding items is a thing you'll do a lot of, as especially early on, your inventory is woefully limited. Even as I upgraded the inventory by using the Korok Seeds, I still too often had to clumsily enter the inventory screen to sort and eventually figure out what weapon to discard when I came across a new one. Equipable items are all boiled down to a single attack or defense stat, so it's a little streamlined, but that doesn't make the inventory any less inelegant.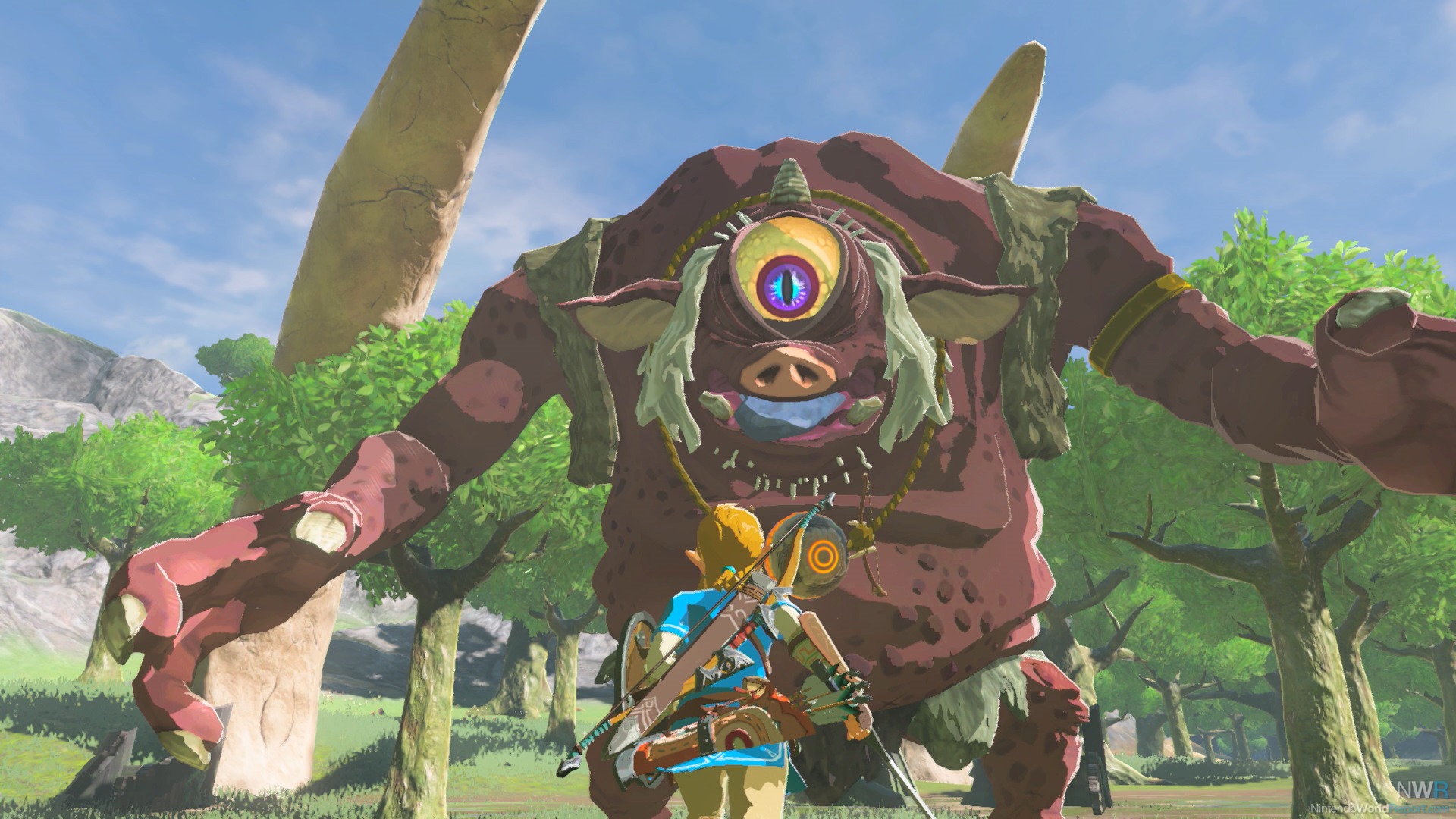 The weapons all degrade and break as well, so you constantly need to refresh your supply. The variety of armaments in the wild allows for a lot of creativity in combat, though I do miss some of the focused nuance of recent 3D Zeldas. Where it succeeds though is in the fact that you have near-infinite ways of approaching battles. You can run in melee weapons blazing or hide back in the shadows picking off enemies one-by-one with arrows and bombs. Making use of the other runes, like the metal-manipulating Magnesis one, also allows for more freeform battling.
In addition to weapons, you also can pick up numerous materials. Fortunately, the amount of materials you collect isn't limited, but that often makes it unwieldy to sift through. You won't find recovery hearts anywhere in Hyrule. Instead, you collect food and make meals to recover your health and temporarily boost everything from your attack and defense to your cold and hot resistance. Making meals is fun the first half-dozen times, but when you're spending 15 minutes awkwardly hovering over a camp stove trying to figure out the best assortment of items to make the most effective meals, it falters. It gets a little easier as you get more familiar with what materials to use, but the whole process is still a drag on the explorative fun.
And that fun is so readily apparent and otherwise constant. At any given time, you have a wealth of options. Story quests come in bunches and you can finish them in any order. In addition to the main quests, a variety of side quests help pepper the world of Hyrule. Each one features different characters that are well-written and point you in the direction of one of the many additional elements of the game.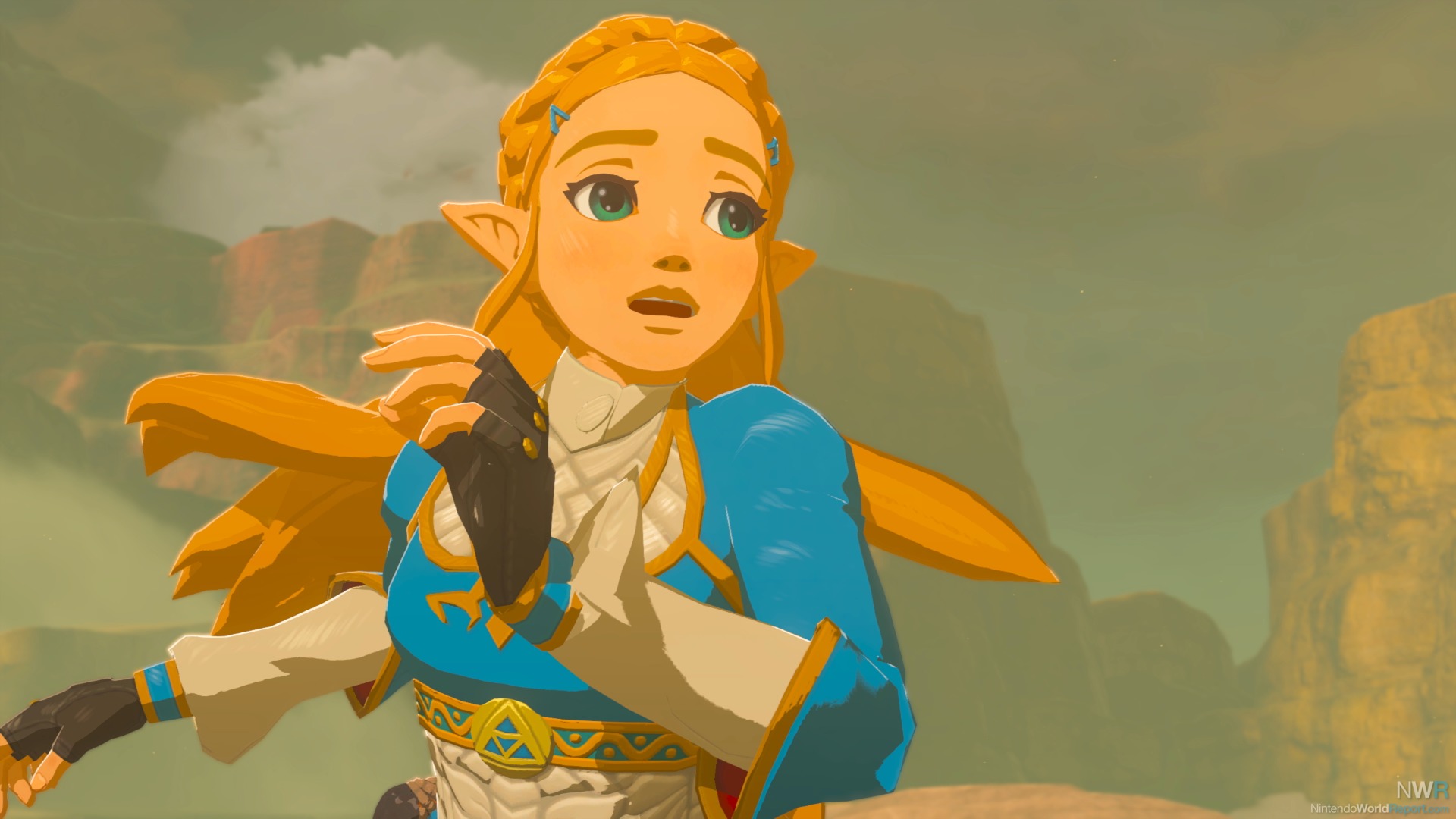 The story is surprisingly dark. It's not quite to Majora's Mask levels of despair, but it takes place in a Hyrule that failed and you have to deal with that aftermath. From the moment Link wakes up to start the adventure, this world is filled with sadness and loss. Your travels around the world just highlight that tragedy, often in affecting ways that help color and deepen the main characters. Link still doesn't talk, but even he gets some subtle character development. Every other major character does talk, though. Across the board, the voice acting is great, even if it's a little cheesy. That tone fits with the series. Breath of the Wild doesn't need to be entirely self-serious (even if it tries real hard to do that at times), and the voice acting is a fine representation of the characters we've been reading for years.
While I wholeheartedly recommend digging into the story, the craziest thing about it is that it's largely optional. After you leave the Plateau, you can go right to Hyrule Castle and fight Ganon. You'd probably get annihilated, but it's theoretically possible. You don't need to complete dungeons or find the Master Sword. You don't even need to find out what happened 100 years ago. You can just roll into Hyrule Castle and take on the Demon King. It's a novel idea that works extremely well with the open-world design.
But it's best not to see the forest for trees and skip chunks of content to rush to the end. Breath of the Wild is a game that works best as your own pace. That's made evident by the brilliant music that is often more ambient than bombastic. The best tracks to me are the mellow jams in towns that hearken back to older tunes, as well as the completely incredible Hyrule Castle theme that colors your final approach to Calamity Ganon. Outside of the soundtrack, the sound design is immaculate. If you're playing in portable, you can rock a pair of headphones and just straight-up live in Hyrule with the array of sounds in the world.
Even with a few nagging issues, The Legend of Zelda: Breath of the Wild soars in a variety of incredible ways. It truly recaptures the distinct essence of the original Zelda game on NES in a way that feels warm and familiar but also exciting and new. This is an amazing, standout entry in a series with a history dotted with masterpieces. It absolutely reinvents the Zelda style while still staying true to what makes past games work so well. This is a hell of a way to kick off a new console (or close one out if you play it on Wii U), as Breath of the Wild is one of the most impressive games I've played in years.