A swing and a miss.
The Mario Tennis series has always been a fun diversion from the main series. From the spinoff's early days on the N64 and GBC, developer Camelot has consistently provided gamers with a solid, if uninspiring, tennis simulation starring everyone's favorite heroes and villains from the Mushroom Kingdom. The simple, yet deep, mechanics that these games provide have kept fans coming back for more over the years, until the recently rather uninspiring Mario Tennis Open on 3DS. It is with a sad heart, then, that I must say that Ultra Smash continues that downward trend.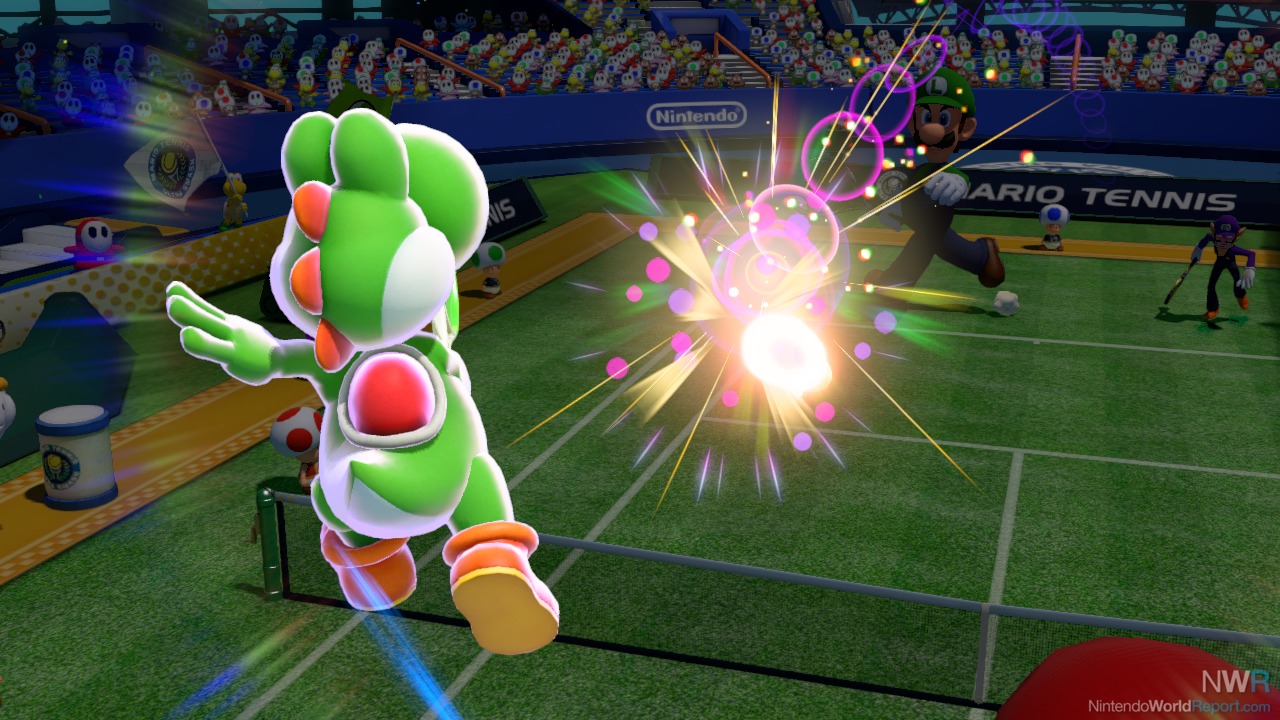 If there is one word to describe Mario Tennis: Ultra Smash, it is "minimalist." Ultra Smash is about as by-the-numbers as you can get when it comes to mascot sports simulation games. From the opening, simplistic menu of the game to the uninspiring game modes themselves, it is clear that the game is not interested in wowing players with its presentation. At its core, Ultra Smash is a solid, functional tennis simulation, but it lacks the depth and detail that previous games in the series had.
The most egregious example of this is in the court design. The game includes only one stadium, with different ground textures to choose between. Playing in the same stadium over and over becomes visually draining, and it makes the gameplay feel even more monotonous and boring than it already is. And while the HD visuals and animations for individual characters are mostly charming, they happen so often and are so limited in variety that it begins to wear on the eyes quickly.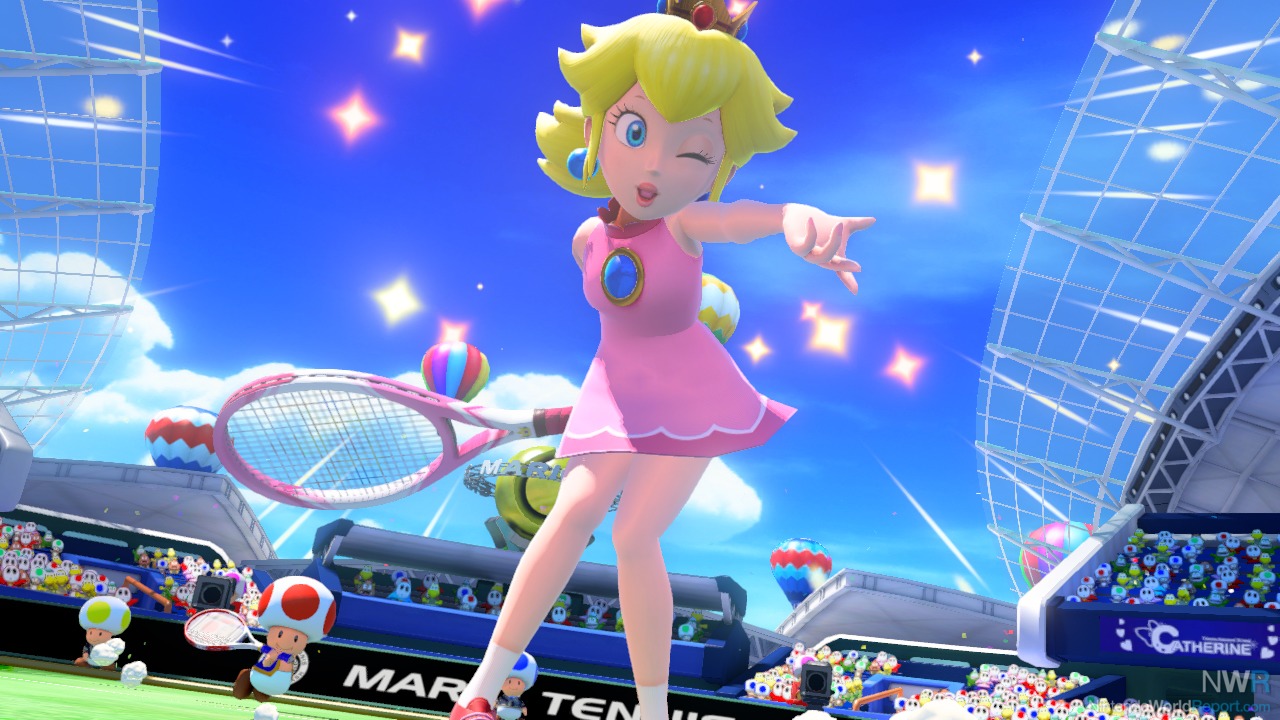 Ultra Smash offers a handful of different game types to choose from: Mega Battle, Mega Ball Rally, Knockout Challenge, Classic Tennis, and Online. Mega Battle, the most advertised mode, is pretty much just regular Mario Tennis, but with Mega Mushrooms randomly thrown in every once in a while. Touching one of these mushrooms predictably causes the character to grow substantially in size, and increases their range and power of their shots. Unfortunately, this change-up offers no meaningful boost to the gameplay, and in some cases can be downright annoying. There were several instances for both myself and my opponent in which picking up a Mega Mushroom, or shrinking down to normal size after the power up ran dry, caused us to miss what otherwise would have been an easy shot. In truth, I found Ultra Smash to be at its best when the Mega Mushrooms were left out of the equation.
The other modes are all hit or miss, as well. Mega Ball Rally sees the player trying to keep up a streak of back and forth shots with a computer-controlled character, which is as boring as it sounds. Knockout Challenge has the player taking on opponents one after another in order to keep a winning streak going for as long as possible. Classic Tennis offers a simpler take on the Mario Tennis formula in which no power ups are present, and the crazy jump shots that are a trademark of the series can also be removed if that's your preference. Finally, the game allows players to jump online and into matches either just for fun or for serious competition. While online play is surely welcome, there is currently no option to play with people on your friends list, which is a real bummer in 2015.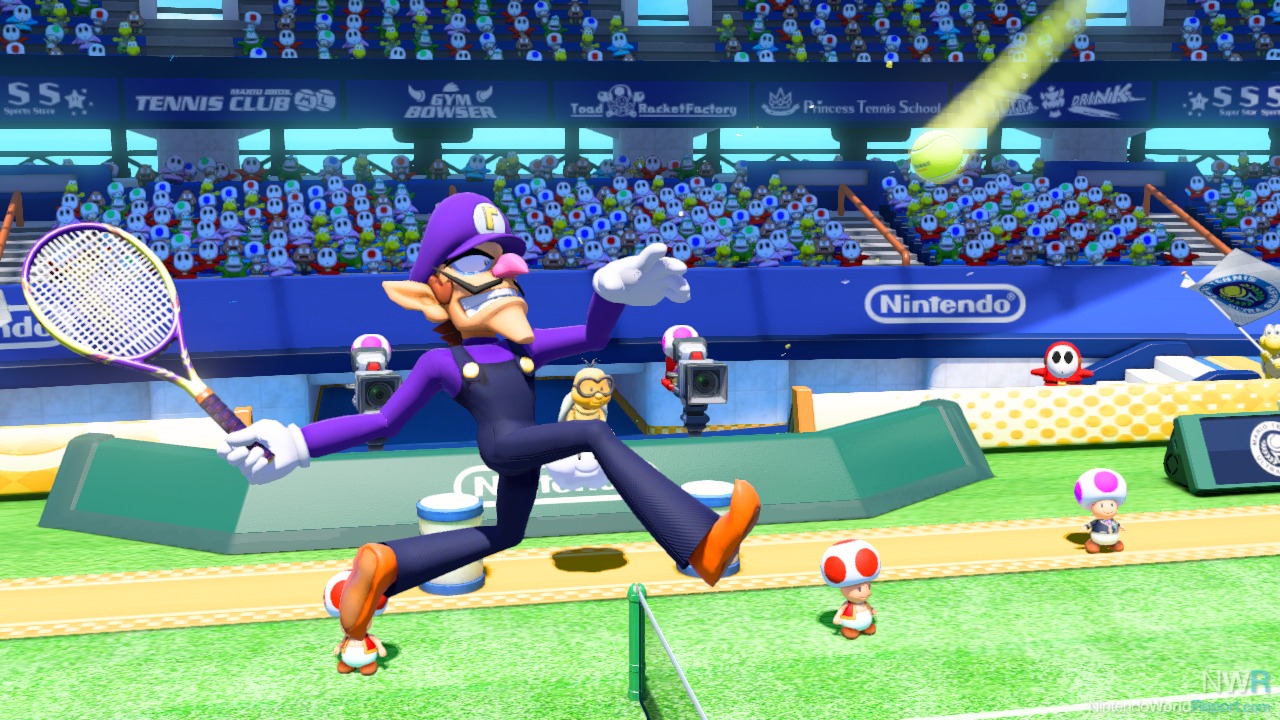 Playing through any of these modes will net the player coins, which can be used to buy rewards rather than earning them. There are a total of 25 rewards that can be unlocked by either earning them, or by purchasing them. Most of the methods to unlock these rewards (which are comprised of "Star" characters, new ground textures for that one stadium, and increased difficulty levels) are as simple and uninspiring as playing a certain amount of Knockout Challenge matches as Luigi. This, like most aspects of Ultra Smash, is disappointing because some meaningful challenges could have gone a long way in making the game more enjoyable. Ultra Smash is the first game in the series to support amiibo usage, as the player can scan amiibo from the Mario series in to serve as their doubles partner in various game modes. In a similar vein to their use in Super Smash Bros., the amiibo partner can gain experience and abilities the more they are used. Unlike Smash Bros., however, this doesn't provide any kind of satisfying result. It was often the case that my amiibo partner simply got in my way, and on several occasions would always be in the right place to steal a Mega Mushroom power up from me.
What is unfortunate about all of this is that I really, really wanted to like Mario Tennis: Ultra Smash. The Mario Tennis series has, in the past, provided me with fun, tense matches with family and friends, as well as simple but deep mechanics and a variety of game modes. But Ultra Smash does none of these things. It isn't a terrible game, but it isn't a good one either. If you're looking for a robust tennis simulator featuring Mario and company, you're probably better off buying any of the previous titles than you are picking up this one. Ultra Smash could have, and should have, been so much more.