Sorting out them monsters was never this much fun!
It is easy to dismiss Pokémon Link: Battle as a Puzzle & Dragons clone and call it a day, but that would be selling Genius Sonority's latest creation short. I already talked about the game in broad terms in the related preview and made it very clear that I adore bit-sized puzzle games. They always put me on the edge of my seat and that is something this title also delivered. The stages are compact, the action is quick and the fun to be had is plenty. There might be some small hiccups along the way, but it is all minor in comparison to what the game truly offers.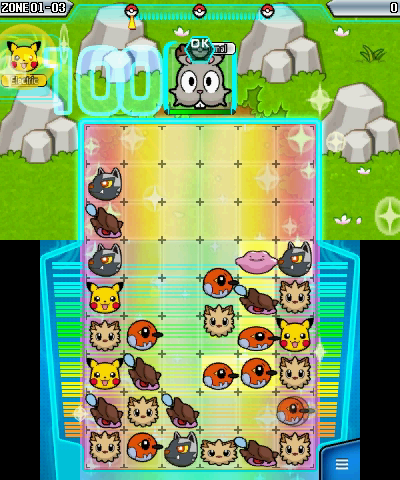 Pokémon Link: Battle is divided in various zones and each new level will be more challenging than the last. Within these levels, you will duke have it out against various Pokémon and ultimately capture them. In the title, you drag Pokémon to the correct spots on the playing field to create lines of three or more of the same Pokémon. Lines can be formed in horizontal and vertical positions which makes getting a set of three or more not too difficult. Before you begin the level, you will see silhouettes of the creatures that could appear. Some of these have a shiny aura and that is where the true replay value lies. When you meet certain conditions in each course, these special Pokémon will pop up and you will get a chance to snatch them. After that, it is all about the twitch feeling of swapping those critters and getting the proper lines by using the touchscreen.
Like discussed before, combos are a big game changer and they can make or break a fight with a boss Pokémon at the end. These combos do however have another purpose, since the score you reach will add to your final score. Based on these scores, you will be ranked and these actually have some importance in the game. Each zone has an additional five or six stages where you will find even more Pokémon to capture that can be unlocked after meeting certain goals. These are necessary if you want to collect every critter that is available in the library and it will definitely take a while for you to collected them all. If there is one comment to be made about all this though, it is that the requirements can prove tough towards the latter half of the journey.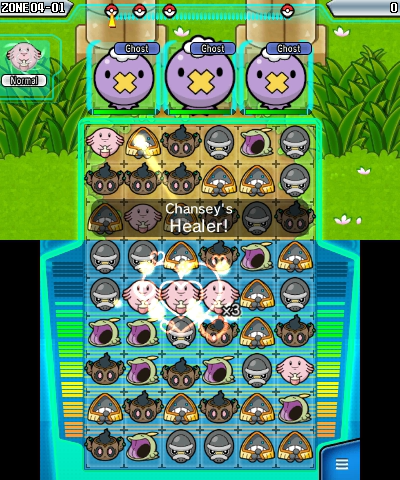 You can also collect Pokémon at the Safari Jungle where the selection will change on a daily basis. These are extra long, more challenging courses which will put your skills to the test. You will never know which Pokémon may pop up and that makes these routes a somewhat bigger feat. If you go Game Over midway, you shouldn't worry too much because captured critters will remain yours. It is irritating though to try to complete a course a number of times and fail very badly. Sometimes the Pokémon you need to make lines with won't pop up at first and this can lead to a disadvantage. It never becomes too terrible, but it is worth mentioning nonetheless.
The title also offers StreetPass and multiplayer functions. With StreetPass, you will be able to exchange game data and receive another player's personal favorite Pokémon. It is another great way to collect them and it is something simple which you can still get a lot of mileage out of. The multiplayer, which is sadly local only, requires all players to have a copy of the game and in here you can play any stage of the game together as a team. It is a novel idea, but I would have liked a way to be directly competitive with the people around me instead.
Pokémon Link: Battle is quite a rapid and fun puzzle game for the Nintendo 3DS eShop. With hundreds of Pokémon to collect and many levels to enjoy, this will certainly keep you busy while on the go. The multiplayer could have been better and there are some extremely minor balance issues, but that shouldn't stop you from the enjoying the game to the fullest.