Don't be Cranky; this is one of the best games on Wii U.
In my review of 2010's Donkey Kong Country Returns, I stated that Retro Studios had shown real skill in developing 2D platformers. In Donkey Kong Country: Tropical Freeze, they've shown absolute mastery. In a world where Nintendo has been maligned for over-delivering in this particular genre, Tropical Freeze stands out as the best original 2D sidescroller in years.
The world of Donkey Kong Country: Tropical Freeze is wonderfully alive with jungle critters and plantlife: it bustles with activity. The combination of Retro's attention to art design combined with the power of an HD system is incredibly rewarding. Of the six worlds in the game, most don't feel terribly different from stages in previous Donkey Kong Country games. Two worlds in particular, Juicy Jungle and Bright Savannah, feel like notable departures, and are both very memorable.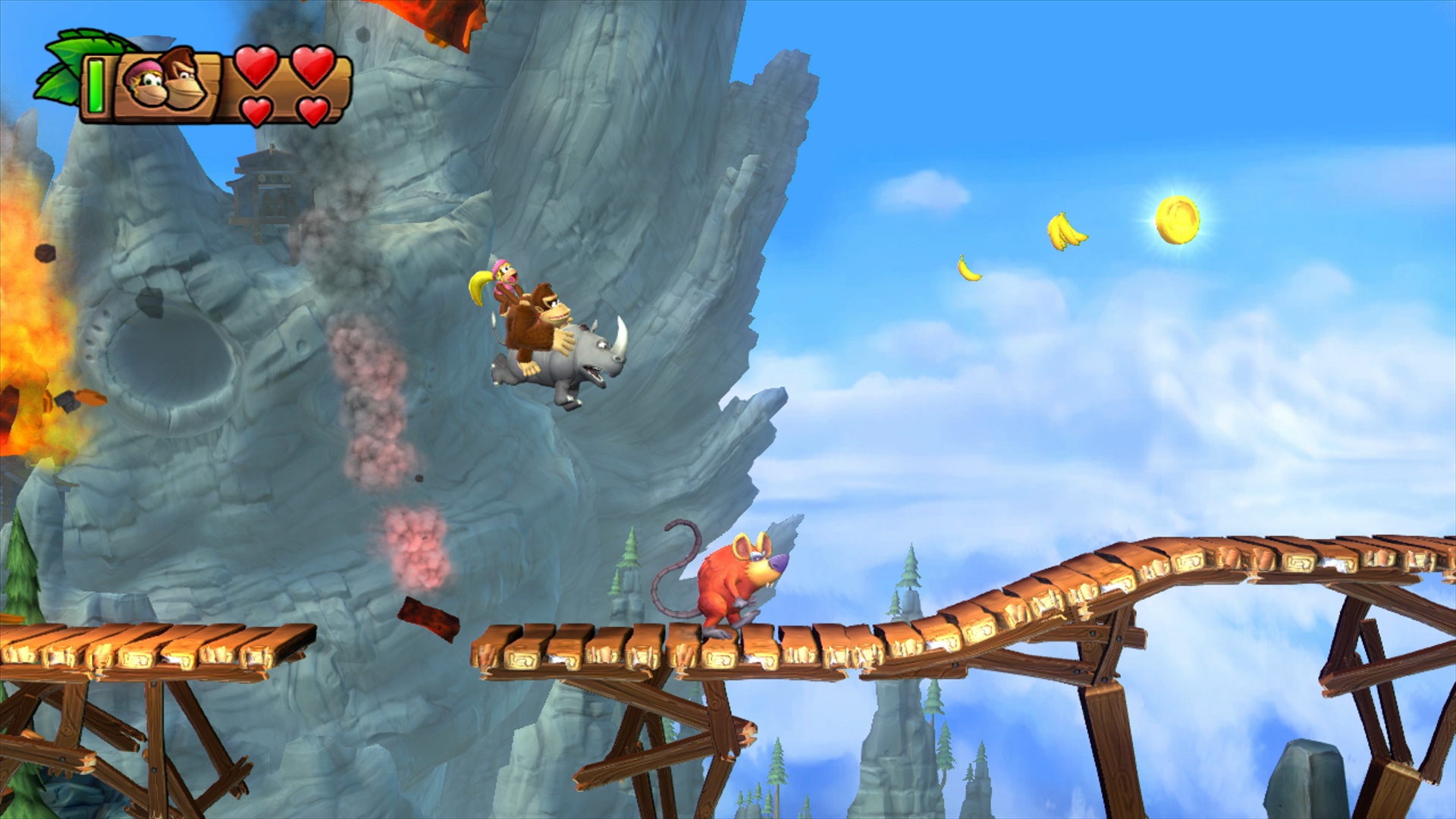 DK moves with a heavy forward momentum, jumping from vine to platform to grassy wall. The character is meant to be a large, heavy mammal, and even moreso than in Donkey Kong Country Returns, he feels like one. The addition of Dixie and Cranky Kong give DK even more movement options, making moving from left to right a joy.
The game is shorter than DKCR, with only six worlds to explore (not counting unlockable worlds). Even still, the stages are lengthy with some stages taking upwards of 20 minutes to play through the first time. The game isn't quite as overwhelmingly difficult as its predecessor, in part because the required motion control is no more, but you'll still spend quite a few lives trying to get that elusive K-O-N-G letter or puzzle piece. The collectables here are the same as the last game, but the hiding spots are clever enough to require a few playthroughs of a single stage to get all of the trinkets.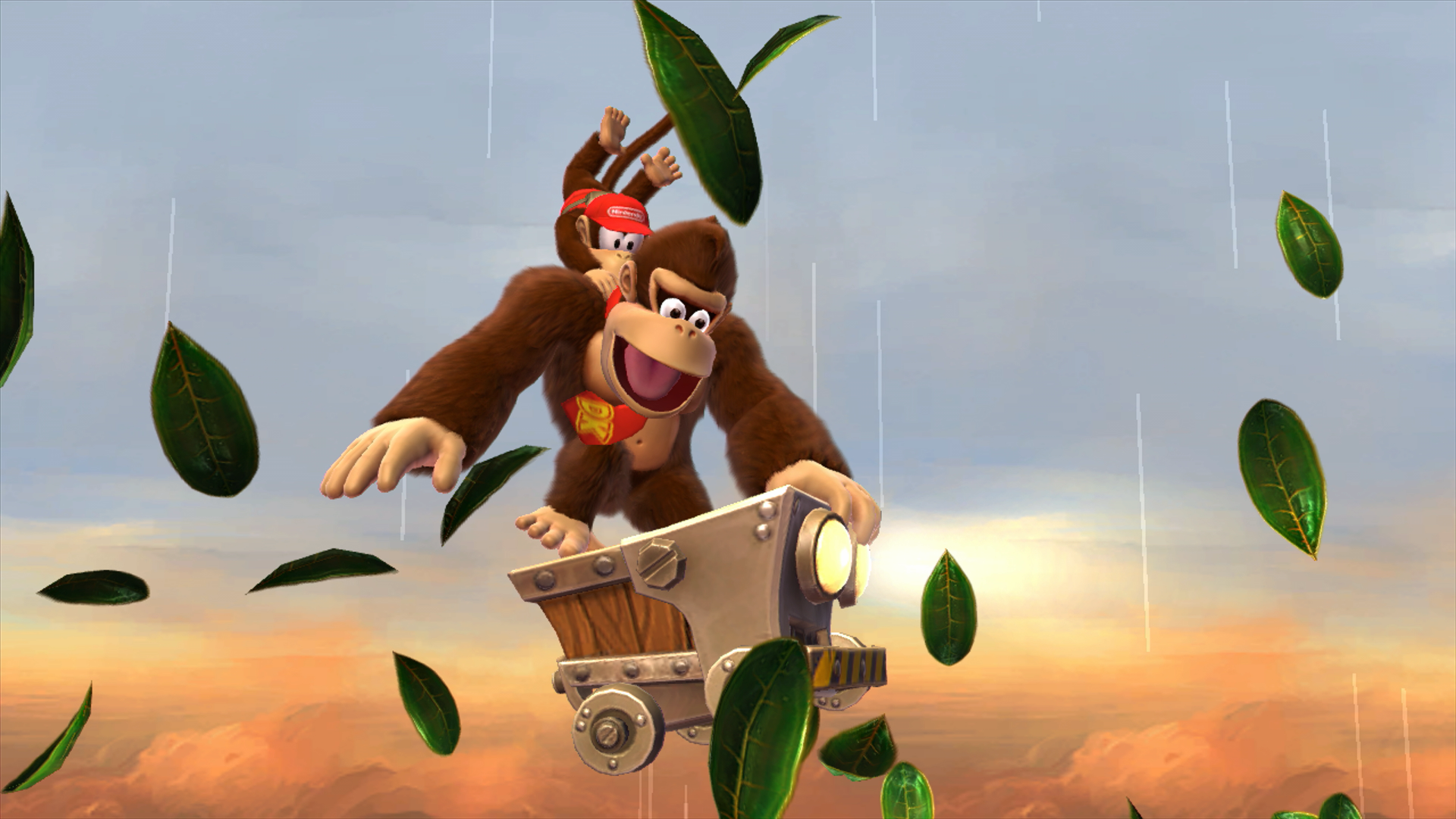 The Wii U GamePad is supported for Off-TV play, but that's about it. DKC:TF supports multiple control options, including Wii Remote & Nunchuk, Wii Remote alone, Wii U Pro Controller, and the GamePad. Interestingly enough, when you choose to play with the GamePad on the television, the screen on the GamePad is completely shut off. This isn't inherently a bad thing, as it conserves battery life and keeps all of the processing power confined to one display. Still, it would have been nice if Retro had found an interesting way to use both screens. They didn't, and as such the decision to shut off the GamePad screen during TV play doesn't pose any problems.
Another cool feature new to this entry in the series is time attack online leaderboards. It's possible to compete both with your friends and other folks all across the globe. Even better, replays can be uploaded and shared with the entire internet, so folks everywhere can see how amazing you are at the game. The replays are uploaded by default, and the leaderboards are fast and easy to access, making this a surprisingly competent Nintendo entry into the world of online play. There isn't any online co-op in the game, but local couch co-op is available in much the same way it was available in Donkey Kong Country Returns.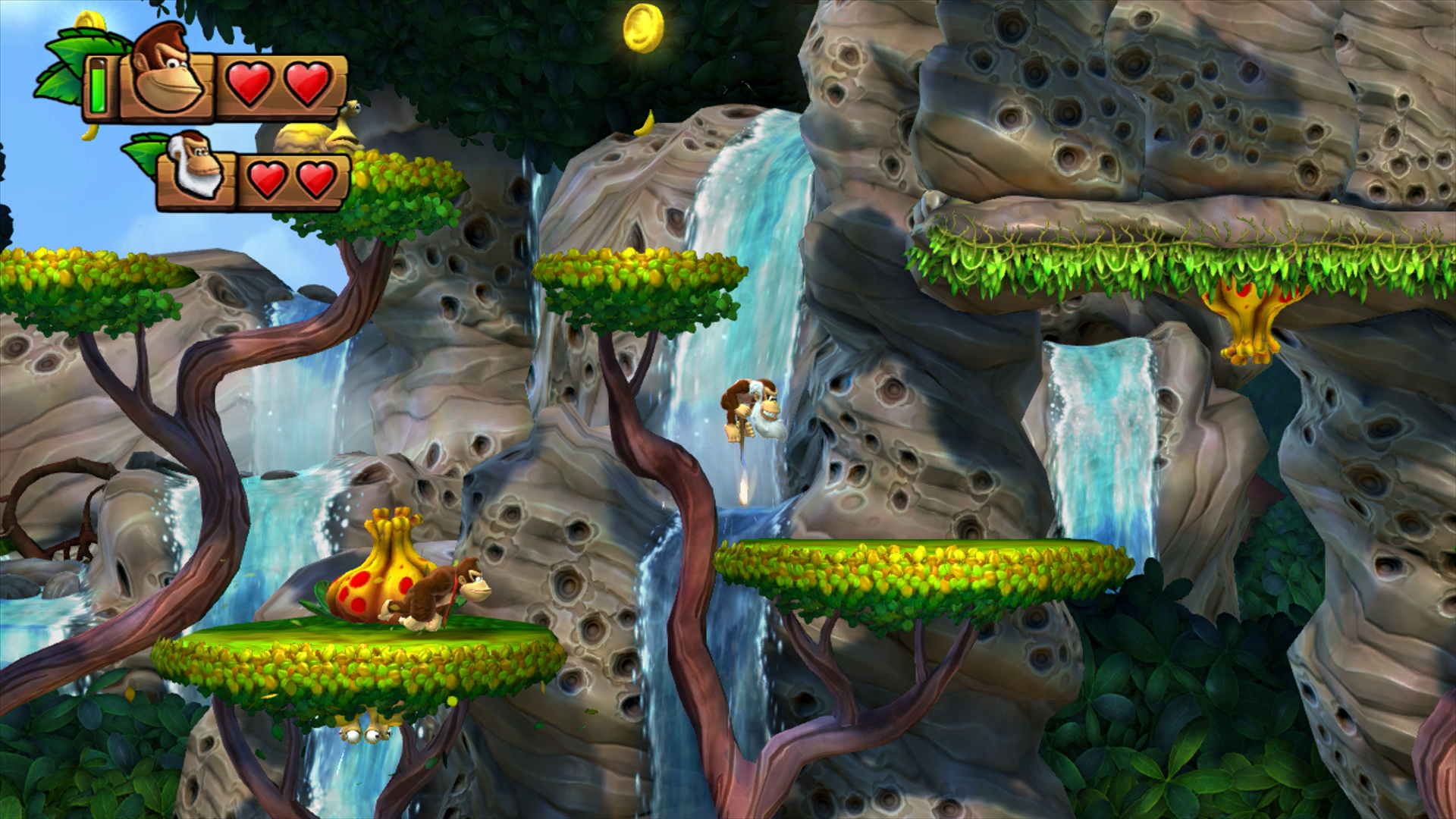 Donkey Kong Country has always been a series loved for its music, and original composer David Wise, formerly of Rare Ltd, returns to compose music for the game that he's known for. The songs are largely very similar to what's come in the past, but there are definitely a few standouts among the soundtrack. The way the music changes as DK heads into the underwater areas is particularly notable; the music fades from upbeat and jaunty to serene and beautiful in the span of a few seconds.
One other change from Donkey Kong Country Returns that's worth mentioning is the complete abandoning of the Super Guide mechanic, which was still fairly new in 2010. It's somewhat nice not to be taunted if you're struggling on a stage, but this may be a problem for younger players (or parents of younger players) who don't have the patience required to play the tougher parts of the game.
Donkey Kong Country: Tropical Freeze does not represent a particularly surprising title for Nintendo, and it may not be the title that pushes Wii U sales into the stratosphere, but it is another wonderful classic Nintendo game on a system slowly building a nice library. If you're a Wii U owner looking for something to play, you really can't go wrong here. It's exactly the kind of game Nintendo does well, and it's among their best.