Kirby is going to inhale your house if you get in his way.
The Kirby series has seen many kinds of genres, styles and gameplay patterns throughout its two decades of existence. With a few exceptions, the core titles in the series focus on numerous copy abilities and a cute friendly look that is clearly identifiable as Kirby. With Kirby: Triple Deluxe on the Nintendo 3DS, HAL Laboratory stays true to Kirby's platforming roots both aesthetically and in its gameplay to deliver a fresh, yet familiar Kirby adventure.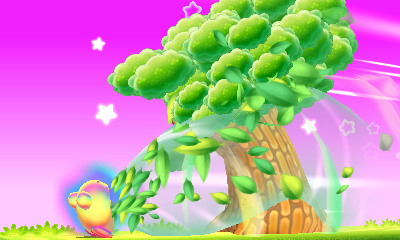 Controlling Kirby is as easy as it always has been. The copy ability still plays a huge part in his first 3DS outing with over 20 abilities including four new ones. It is very enjoyable to try out many of the returning and new abilities due to their simplicity and variety. However, it is a pity that they are not utilized in a more meaningful way, such as having the Fire ability cause more damage to Whispy, the tree like recurring boss in the Kirby series. To be fair, there are some instances of using them to reach collectibles or other areas in the level, such as cutting grass with the sword to reveal secrets or lighting a fuse with fire to propel Kirby out of a canon, but they are few and far between. Expanding upon this idea could have added a lot more depth and meaning to the power-ups, which in turn would make a more substantial experience.
Perhaps the most interesting addition is the Hypernova, which greatly enhances the already powerful pink puffball's inhaling ability. While you are a bit limited to what you can interact with, generally speaking, after obtaining the Hypernova, there are many set piece like elements that Kirby can gobble up. Puzzle components, albeit simple ones, are also introduced and create more complex, interesting gameplay. Even small things like using the Hypernova's inhale ability to drag the head of a snowman across the level while avoiding it getting melted by lava was charming and amusing. I mentioned in my previous set of impressions that I wasn't really a huge fan of the Kirby series due to the general slow speed of the games - this still holds true here. Kirby is still a little slow even after double tapping the d-pad/circle pad. While suggesting that Kirby blaze through stages as fast as Sonic is a bit ridiculous, a slight bump in speed could benefit the overall flow of the game.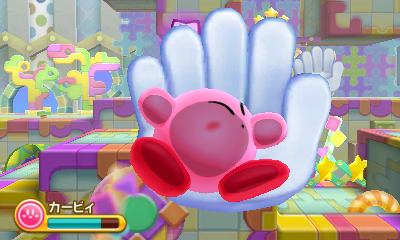 Gyro controls are also used to some extent in Triple Deluxe. For example, Kirby can ride in small carts that are placed on tracks where you have to tilt the system to the left or right to advance through the level. Moving around the 3DS and keeping the stereoscopic 3D view with these kinds of control elements are usually an issue, but since they are somewhat subtle, it was generally not an issue.
Visually, Triple Deluxe continues the bright and colorful aesthetic of the Kirby series. Also, as was evident in the previews leading up to the release of the game in Japan, the game makes full use of the stereoscopic 3D effect in a number of ways. The gameplay is enhanced somewhat by giving players different planes to play on in the levels. There are even times when you have to make Kirby interact with both planes at the same time. For example, there is a gameplay mechanic where Kirby can put on a hat that shoots mini canon balls toward the opposite plane, often times clearing out enemies that are trying to interrupt your progress on your current plane. It's not necessary ground breaking, but it looks great with the 3D switch turned on. Triple Deluxe also has items, enemies and random background elements being launched toward the screen from time to time. I've always seen this as kind of a cheap gimmick to show off 3D, but in the context of Kirby it's very fitting. It can be cute to see Kirby getting squashed like a pancake on the screen after flying towards you.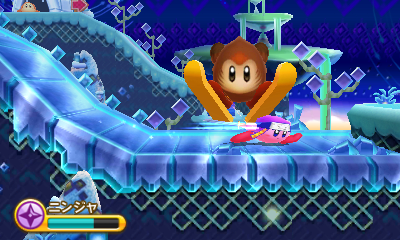 Collectibles and extras are plentiful in Kirby's latest adventure. The main items to collect in the game are Sun Stones. Once you collect enough and proceed through each world, you use them to unlock the boss stage. Generally, you only need a small handful to do this, but for more advanced players, collecting all of the stones in a world could unlock extra levels. Key Chains, or Key Holders as they are known in the Japanese version of the game, are the other main collectible scattered through the worlds. There are over 250 that are all based on characters from previous Kirby games. Each of them looks exactly as they did in their respective games and they are a great way to play on nostalgia of older gamers. The game also offers two separate playable modes from the start with Kirby Fighters and King Dedede's Drum Dash (which I talked about in my impressions) as well as additional content after completing the game.
Kirby: Triple Deluxe is a solid game. The story mode is just about the right length, the collectible Key Chains are a fun trip down memory lane, the soundtrack is charming and the mini-games and post game extras help round out the experience. The addition of Supernova greatly changes the dynamic of the gameplay and lets players be a super-powered version of Kirby, which was very entertaining. Regardless of the slow nature of the gameplay, Kirby: Triple Deluxe is a charming, entertaining title that platforming fans should consider.