The first Tower Defense game on Wii U crashes the gates.
I have a love-hate relationship with games in the Tower Defense genre. I can have a fantastic time with them if they're paced well enough like Plants vs. Zombies or Defend Your Castle, or I can be incredibly bored to tears with how slow and tedious they can be, like Dillon's Rolling Western. CastleStorm is thankfully the former, and while things can get repetitive, the developers managed to shake things up enough and offer a variety of game modes to keep this castle up and running.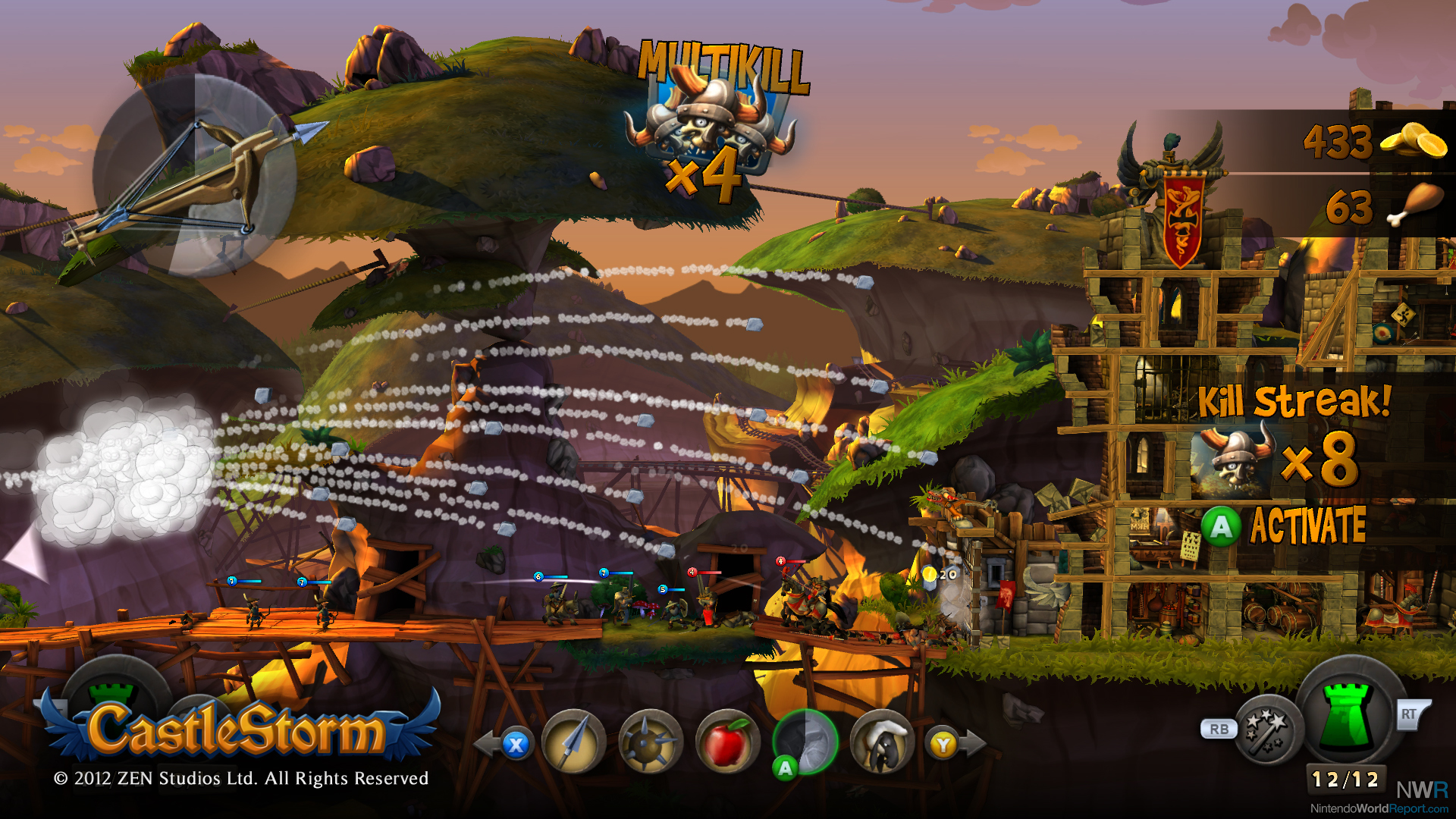 The plot of the game is a simple one.: You lead Sir Gareth and his army on a quest to retrieve a stolen gem from the Viking kingdom. On the way you'll encounter various characters that join your quest, and be treated to various cutscenes. The writing is decent, aside from some obnoxious "arrow to the knee" references. However, I would've liked to see some voice acting to go along with it, as the cutscenes are told through unemotive character models with stiff, rigid animation. The character models themselves still manage to be nice to look at thanks to the game's crisp 1080p visuals, but the graphics on a whole are on-par with something you would see on the Gamecube.
The goal of each mission tends to vary, but more often than not, you'll be required to completely destroy the enemy castle or capture their flag and bring it back to your own castle. Thankfully, there's no shortage of options to go about accomplishing this. You have projectile weapons such as spears, exploding apples, and rocks, which help you not only take care of the various ground troops that try to storm your castle, but also assist you in destroying the opposing castle by taking down walls and rooms within. Each projectile has a white trajectory line, telling you precisely where it's going, so there's no confusion or guesswork in getting the shot just right. You control the arc of the projectile with the analog stick, which can be a bit over-sensitive when you're trying to line it up just right, but the D-Pad made things a bit easier, if not a bit more time-consuming, to pinpoint your shot.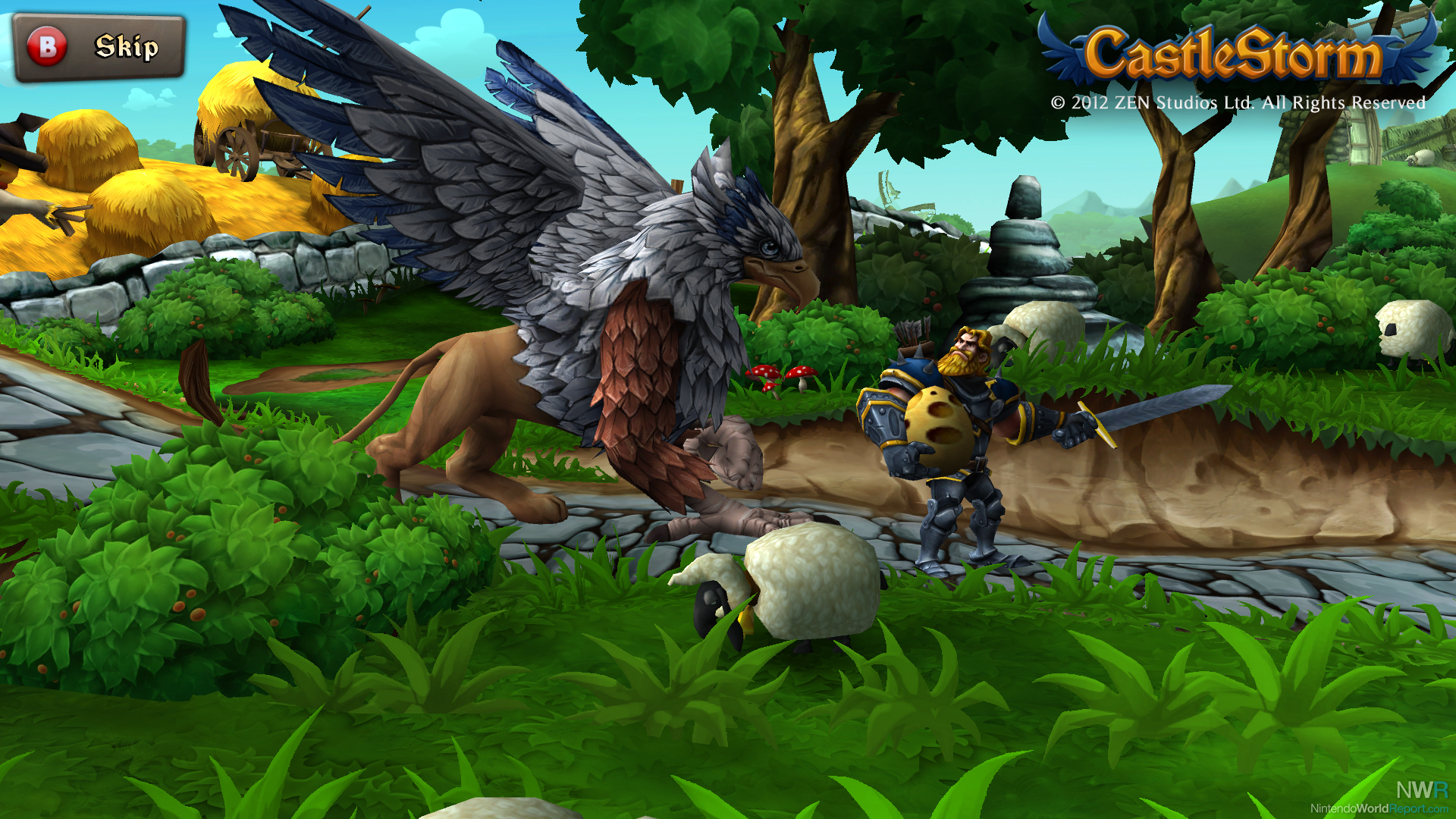 Various soldiers, healers, knights on steeds, and even giant rock monsters are also part of your arsenal, as they travel along the ground, taking care of the enemy soldiers that try to storm your castle. While they're not nearly as powerful or effective as the projectiles, you can spawn a great amount of them at once, helping your castle from becoming vulnerable. There are more powerful soldiers later on in the game, so they're not always useless, but they do require more food, the game's resources for soldiers, to summon. Thankfully the game offers the option to summon various heroes with a limited lifespan, which allows you to down down numerous enemies by giving you full control of the heroes themselves. It's simple and barebones, but can get the job done in a pinch.
As you clear missions and defeat the various ground troops, you're rewarded with gold, which can be used to upgrade your soldiers, projectiles and housing units within your castle. While upgrading the soldiers and projectiles will solely make them faster and more powerful, upgrading the rooms allows you to summon more soldiers onto the field, provide faster food preparation, an increase in gold drops, and more. It's a welcome addition, as the upgrades actually feel empowering. The feeling I got when unleashing hell from a freshly upgraded castle and arsenal was extremely satisfying, and I was constantly looking forward to upgrading more and more as the game went on. You can also customize the castle to suit your specific needs for barracks and rooms, but it was extremely confusing as to how to properly build upon the pre-set castles. Thankfully, said presets are more than adequate enough to suit every possible need for each of the game's missions.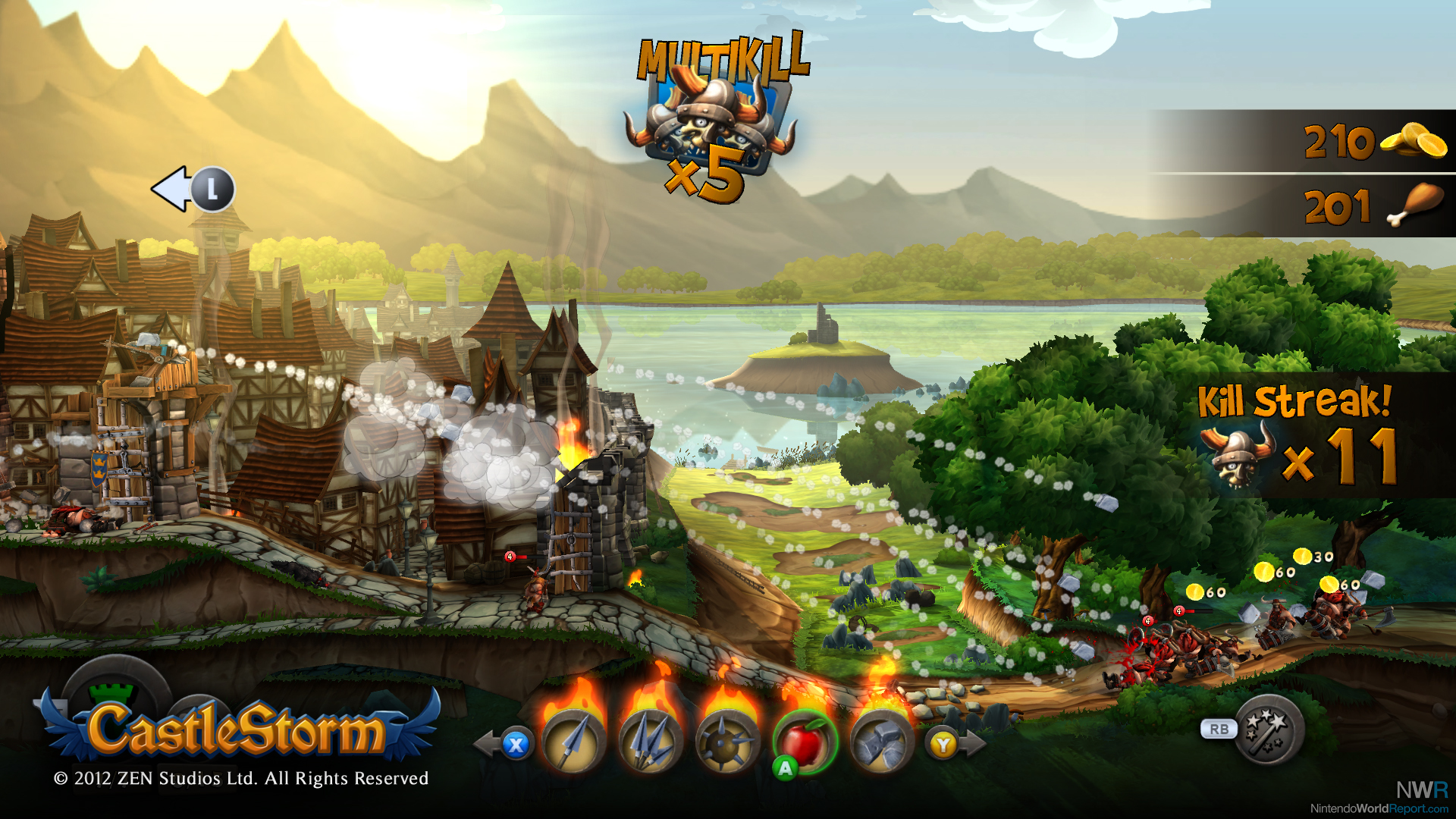 There are also local and online multiplayer options, which can also be played on your own against a CPU. There's a Versus mode, which pits you against the Vikings or the Kingdom, depending on which one you've chosen, and you use your arsenal of weapons and soldiers to capture the opposing castle's flag or destroy their castle altogether. There's also co-op wave-based missions where one person controls the projectiles and the other controls Sir Gareth or another hero on the ground, as you defend against hordes of enemies trying to steal your flag. You can also play a mode where both players are the heroes in special smaller maps, trying to avoid keeping your flag from being taken. All of these modes performed spectacularly well with minimal to no lag, and gave me a ton of incentive to keep playing. The gold that you earn in the multiplayer can be carried over to the main campaign, giving an extra boost even in even in the early stages of the game.
Even if the production values aren't that great, there's a lot to love about CastleStorm. The addictive gameplay coupled with the charming visual style and characters make it not only a must-play for Wii U owners, but a must-play for anyone who's never been introduced to the Tower Defense genre of video games. This castle will take them by storm.