It may not bring many people to the Wii U, but it's certainly a treat for early adopters.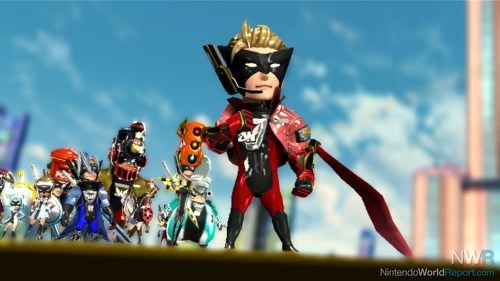 Churning out ridiculously over-the-top, stylish titles is nothing new for Platinum Games. From MadWorld's black-and-white, comic book-like aesthetic, to Bayonetta's sexually charged and hairy theme, their games ooze style. Likewise, The Wonderful 101 borrows elements from Japanese tokusatsu and mecha anime series to deliver a unique experience unlike anything I've ever played before.
While The Wonderful 101 borrows from other mediums for its theme, its gameplay is one of a kind. Imagine Pikmin as a fast-paced, hack-and-slash title, and you've got a rudimentary idea of how The Wonderful 101 plays, but even then, variation is abundant. You control one of 100 Wonderful Ones—the rest follow your lead—as you traverse through several settings, most of which are displayed in an isometric perspective.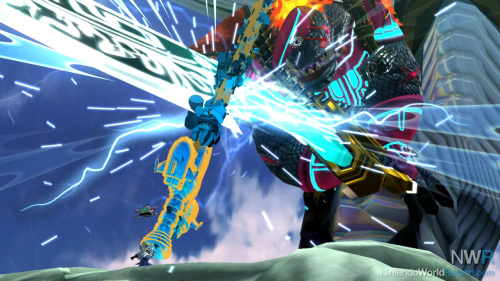 Instead of relying on one trusty weapon, or simply switching to another, you use your fellow Wonderful Ones to construct oversized weapons called Unite Morphs. You do this by using the Wonder Liner to draw a corresponding shape either with the right analog stick or with the touch screen. For instance, if you want to form Unite Hand, you draw a circle and press the A button to activate it. Surprisingly, I found using the right analog stick to be the preferable option. Drawing them on the touch screen interrupted the flow of the game, even though either method momentarily stops time. There is a brief learning curve to drawing the shapes, but after a few missions, I never really had any issues with it. After a while, drawing each shape becomes second nature. Additionally, some Unite Morphs can be used without the Wonder Liner. Unite Guts, for example, forms a gelatinous shield when you press the ZL trigger. Most of these Unite Morphs must be bought from the Wonderful Mart, along with other special skills and items using in-game currency that you receive from enemies and after each stage.
Battery power is a bit less complicated, but it's far more annoying. Under your health bar is your Unite Gauge. It depletes whenever you use the Wonder Liner, or activate a Unite Morph. The gauge recovers slowly over time, but you can also replenish it by collecting batteries or by using items. The issue with the Unite Gauge is that it always seems to run out at the most inopportune times, and without it, you can't form Unite Morphs or use the Wonder Liner. There are skills and abilities that you can unlock from the Wonderful Mart later in the game to alleviate this, but they don't do away with the issue entirely.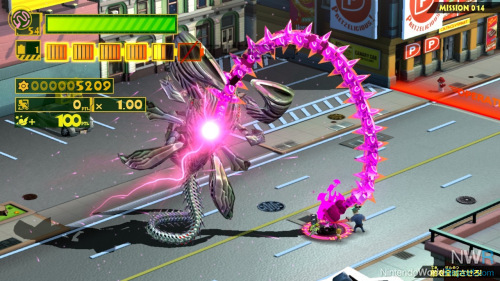 Combat in The Wonderful 101 is incredibly fluid. In addition to your Unite Morphs, you can also perform a team attack that immobilizes enemies by repeatedly pressing the X button. Careful timing is important if you want to achieve a high score. Unite Morphs that increase your evasive and defensive abilities are a must, and should be the first thing you buy from the Wonderful Mart. Without them, the game is barely playable. Luckily, you should be able to afford them after the first mission. Some enemies have a specific weakness to certain Unite Morphs, and the game encourages experimenting with different combinations. Multi-Unite Morph especially contributes to this. With it, you can use two Unite Morphs at once, one you control and the other is controlled by the AI. It's brief, but if you use the right combinations, it can be devastating to the enemy.
Each of the nine operations in The Wonderful 101 are comprised of two to three stages, and those in turn are separated into several missions. These missions can sometimes vary wildly from the usual game. There are shoot 'em up missions and even a Punch-Out!-like one. Even the usual missions often tend to have interesting puzzles, some of which even have you use the GamePad as your main screen. The most reoccurring ones, however, are essentially kill rooms. Luckily, the combat is so enjoyable that this rarely became tiring, and they do a great job of keeping things varied. Just as you're getting tired of kill rooms, there's usually a puzzle or something different to freshen things up. Nevertheless, the game does suffer from a bit of padding. One reoccurring enemy in particular is especially bad about this. It's not a particularly strong or difficult enemy; it just takes forever to kill because you have to strip off its armor before you can damage it. Likewise, there there's also a reoccurring miniboss that I could have done without. His fight is pretty much the same each time you meet him, and he's stacked with health.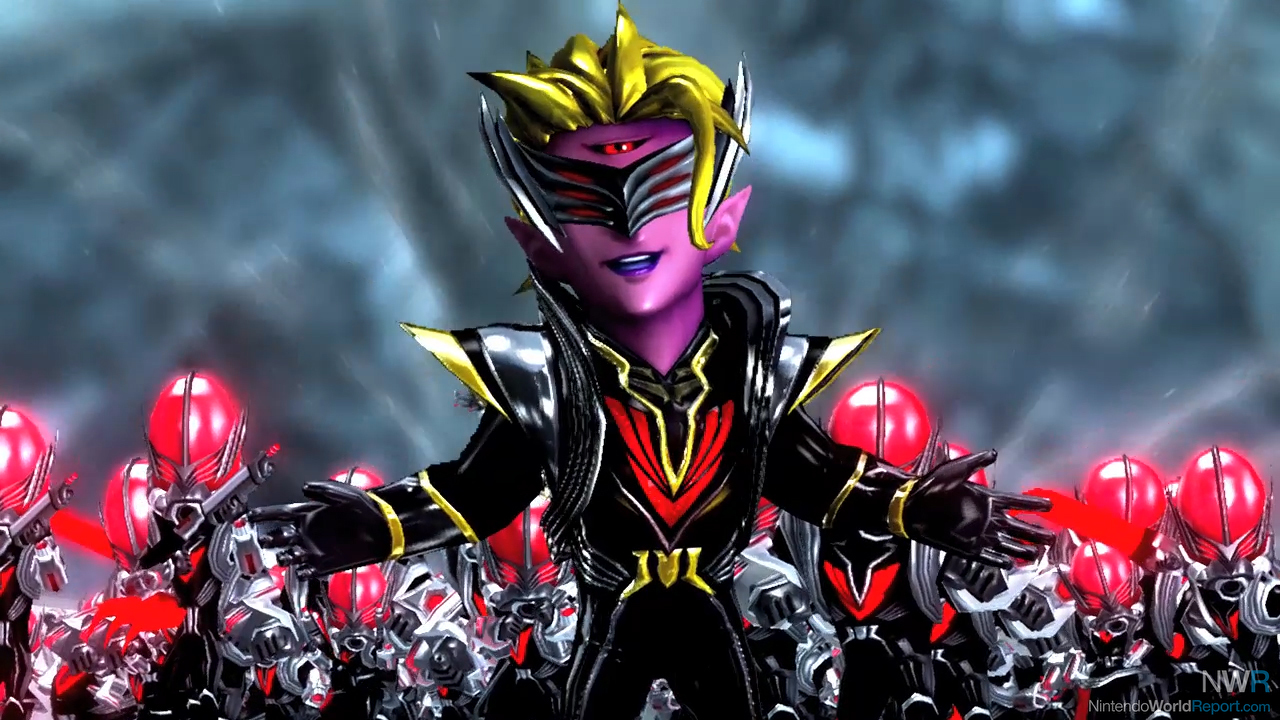 After you've completed all of the stages, each operation ends with a cinematic boss fight. These fights are usually heavy on quick time events, but not so much that you feel like you're watching rather than playing. Some of the bosses can be fairly difficult, and finding the right Unite Morphs to beat them is a blast.
Motivating you throughout the game is the story of Earth's 40-year-long struggle against the "Guild of Evil Aliens Terrorizing Humans with Jiggawatt bombs, Energy beams, Ray guns, and Killer lasers," otherwise known as the GEATHJERK. In response to their galactic menace, the people of Earth have formed the CENTINELS Planetary Secret Service, an organization that includes 100 masked heroes, known as Wonderful Ones. After hearing those names, it should be clear that the game doesn't take itself very seriously, especially early in the adventure. As the story progresses, however, it inches toward a more serious tone, but never quite crosses the line.
This is partly thanks to the comical interactions between the four main Wonderful Ones: Wonder-Red, Blue, Green, and Pink. Their dialog is full of puns and jokes, all fully voiced in English by a skilled team of voice actors. The game's humor also does a great job of developing each of the Wonderful Ones' personalities, though some are more developed than others. The main four get a lot of screen time, but Wonder-Yellow, Black, and White feel a little underutilized.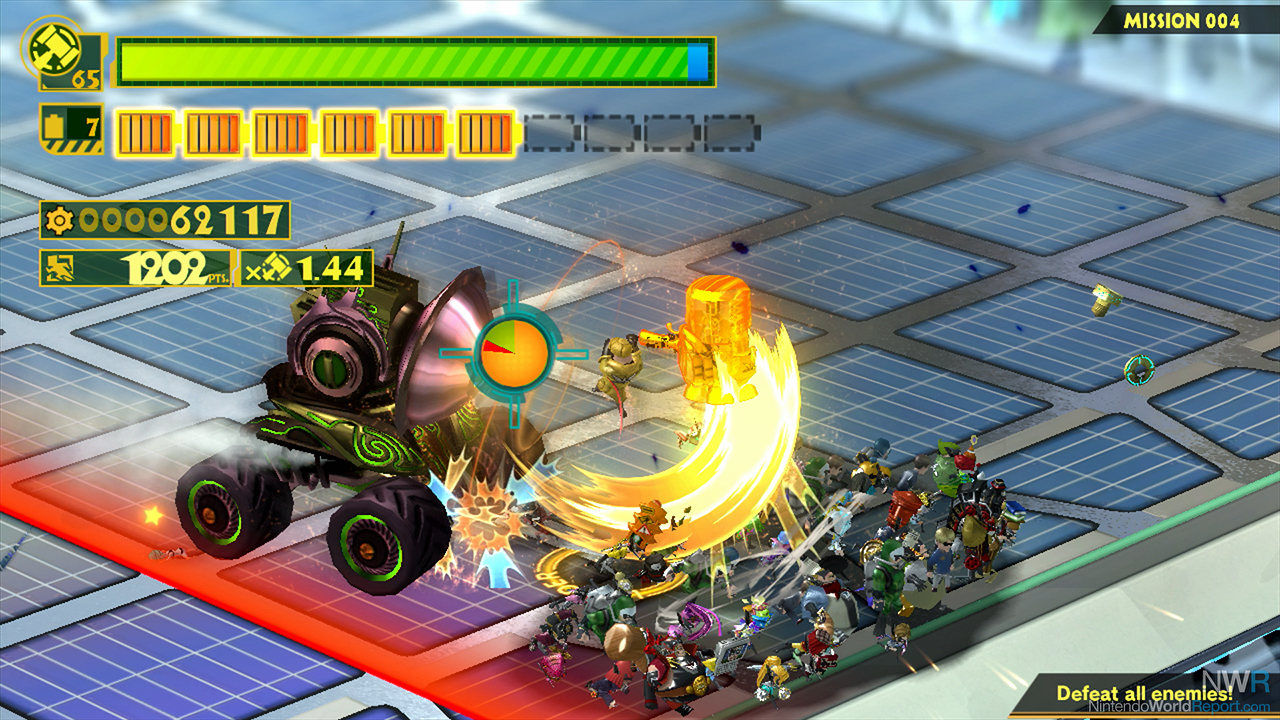 In addition to the Story mode, the game also offers a Mission mode that can be played with up to five people—one using the GamePad and the others using Wii U Pro Controllers or Classic Controllers. These missions all take place in various locales from the story and include the same enemies. I wouldn't recommend playing them first, as they may spoil some of the interesting enemies from the story, but the missions are still quite a bit of fun, especially with other people. With two players working together, the missions become slightly easier, but they still offer quite a bit of challenge. One mission in particular, destroyed my friend and me. I thought the game would become too chaotic with more than two people, but to my surprise, it actually became easier. With five people, we breezed our way through all the missions in one two-hour session.
Quite frankly, there's nothing else quite like The Wonderful 101 on the market. It's an incredibly polished game that's few blemishes are easily overlooked. If you own a Wii U, you owe it to yourself to see how wonderful The Wonderful 101 truly is.