Superb single-player and multiplayer experiences make Luigi's second spooky sojourn a top-choice 3DS game.
The wait for a full-fledged follow-up to Luigi's Mansion clocks in at close to 12 years. Fortunately, in the hands of Canadian developer Next Level Games, the sequel to the GameCube launch title is more than worth the wait, preserving everything worth praising about the original while adding a considerable amount of content and ideas that improve the entire experience.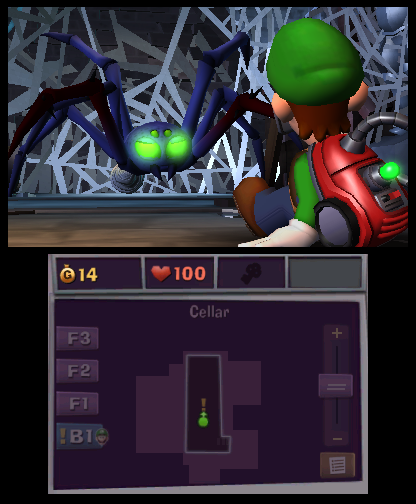 Dark Moon's mechanics and gameplay are similar to those of the original. The Proton Pack-esque Poltergust returns in upgraded form, and new attachments such as the Strobulb and the Dark-Light give Luigi even more tools to solve puzzles throughout a mansion. The solutions to the game's adventure game-like puzzles require constant attention to what you have in your inventory and what's around you. These are environmental puzzles at their best: clever, devious, and everything in between. Best of all, they're fair, and while you might beat your head against a wall for a few moments, the solution is never too obtuse.
Instead of exploring one residence like in the abbreviated first game, Luigi teams up with Professor E. Gadd to scope out five distinctive mansions. Each is broken into a few stages each that range from 15 to 30 minutes in length, depending on your tendency to explore or get stuck on the puzzles. While my immediate reaction to this linearity was disappointment, the stages act almost as save points or breaks throughout each two- to three-hour individual mansion experience. This layout makes Dark Moon an ideal and accessible portable experience, especially if you want to replay certain areas to find all the game's secrets.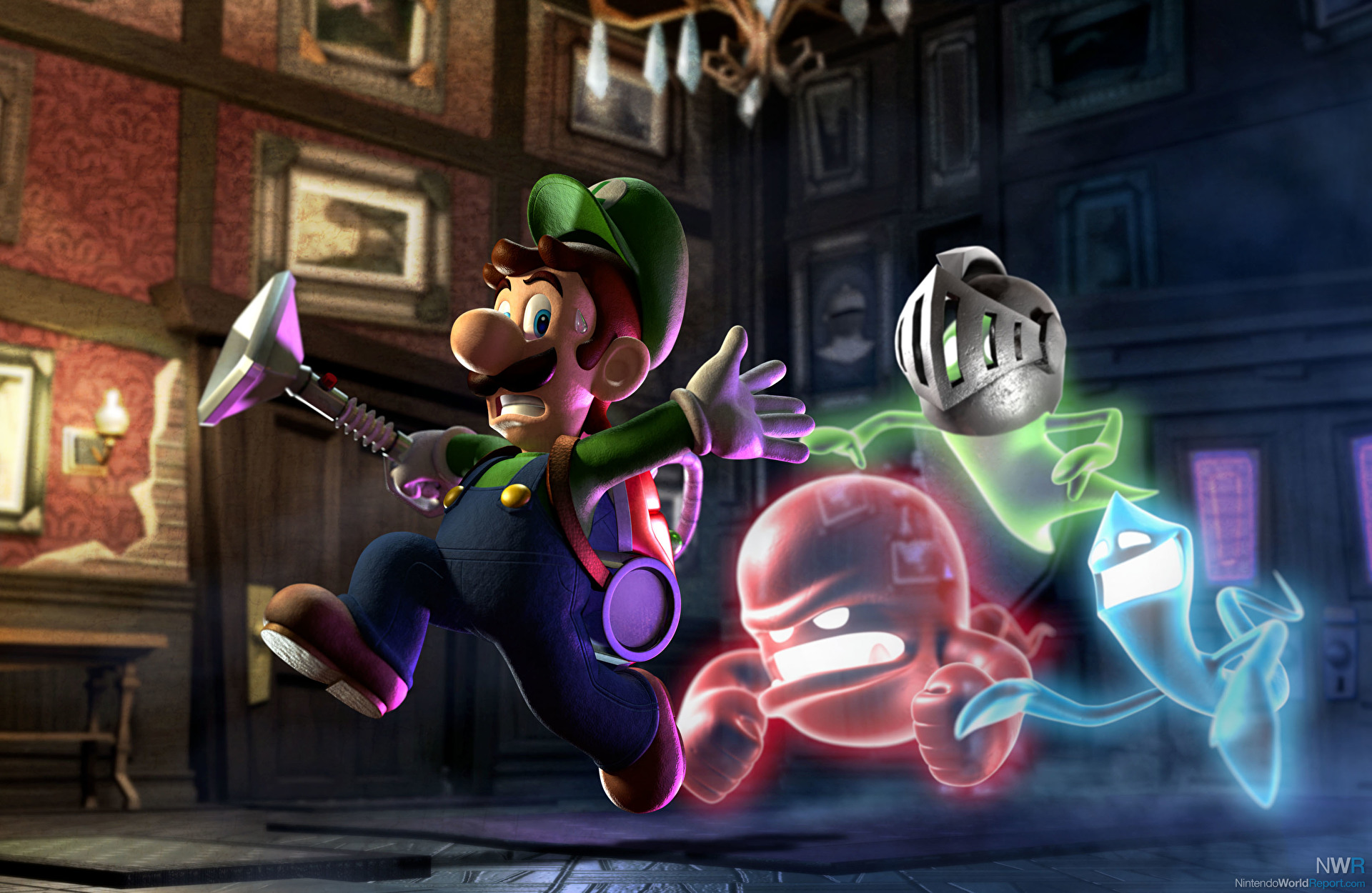 The ghost combat of Dark Moon is more or less that of the original. You stun ghosts by using the new Strobulb, and then fight to suck them up in a fishing-like manner. To the familiar formula, Dark Moon adds the ability to speed up the vacuuming process by performing a charge attack, which makes the combat more dynamic since you are also trying to fill that meter while you vacuum up ghosts. The controls are intuitive, with the only downside being the system's lack of a native second stick. Considering the GameCube version was one of Nintendo's first games to show off dual-stick gameplay, that the game doesn't even support the Circle Pad Pro seems like an odd choice. Still, the controls aren't hampered without the second stick, and the game is designed so as not to make its absence anything more than a minor nuisance. The vacuum generously locks on to your target at some points, and there aren't many moments where Luigi has to pivot around while using the vacuum or lights.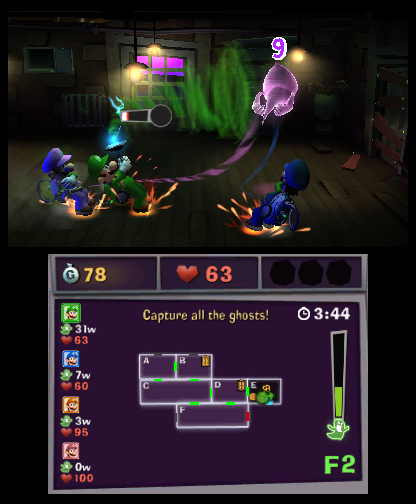 Dark Moon's biggest deviation from the original game's formula is the addition of multiplayer, available in local, online, and even Download Play. The ScareScraper is a delightful cooperative mode in which you explore randomly generated floors with anywhere from one to four players. It comes in three modes: Hunter, where you have to collect all the ghosts to clear a floor; Rush, where you race to the end of each floor; and Polterpup, where you have to find adorable ghost dogs hidden in the environment. Each mode's distinctive gameplay focus makes it a unique, worthwhile experiences, and the friendly competition that emerges from each nails the balance between working with and against each player. For example, you can steal a ghost from another player by being closer to it when its health hits zero. If you do that for a boss ghost, you can completely sway the game's leaderboards.
Dark Moon's multiplayer is an incredible local experience that should have you shouting with your friends in no time. Online play, however, loses a bit of that experience's immediacy. The only way to convey anything is to select one of four preset phrases from the D-pad, which hinders communication. It's the type of game where you're better off using Skype or Google Hangouts while you play to emulate the thrill of local competition.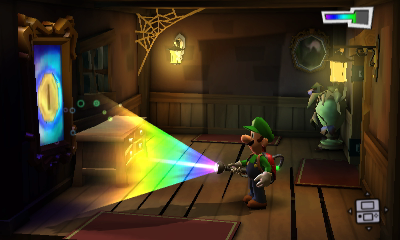 Collectables are plentiful throughout each of Dark Moon's levels. You populate your ghost vault as you collect ghosts in single- and multiplayer, level up your gear in single-player, and try to gain gold medals in each story mission by doing them quickly and grabbing as much gold and health as possible. In addition, each stage and mansion has tons of hidden objects, including a hidden Boo in each level, and gems scattered throughout each mansion. While the reward for some unlockables is not much more than a star on your profile, the hidden Boos unlock additional stages, which are totally worthwhile to play through, and add even more to do in an already lengthy game.
Luigi's Mansion: Dark Moon is a fantastic game everyone with a 3DS and passing interest in the GameCube original should check out. The lengthy single-player experience, which should take most players more than 10 hours, is filled with clever puzzles, rewarding exploration, and smartly designed gameplay, while the multiplayer is an outstanding cooperative experience that could become a 3DS multiplayer staple. Simply, Dark Moon is a top-tier 3DS game that was well worth the wait.