Fails to make a splash.
Throwing rocks, coins, and other objects down wells is oddly satisfying. The combination of not knowing what's inside the well or how deep it goes, and hearing that short but sweet sound of objects hitting the water is an experience not easily replicated. Poisoft tries to, though, in Kersploosh!, its latest 3DS eShop release. While its interpretation of what actually goes on inside the well is interesting, you won't spending much of your time there.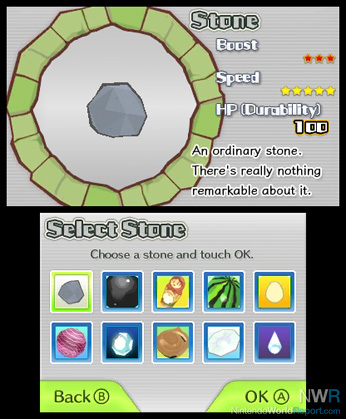 The point of the game is simple: you toss a rock, rubber ball, or various other unlockable objects down a well, using the Circle pad to control the object as it descends. Inside the well are various obstacles you have to avoid, such as wooden planks, pizza, Japanese sliding doors, cookies, and more. Hitting these obstacles chips away at your object's health; when it reaches zero, it's game over. Donuts inside the well boost your speed if you slide through their center, and balloons replenish some of your falling object's health.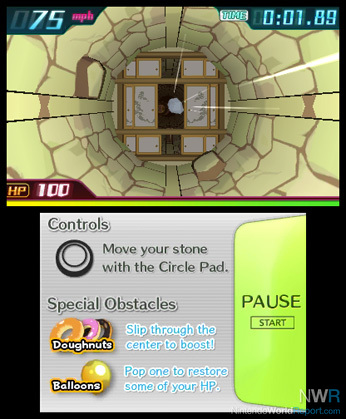 While the idea and presentation of such a simple concept is engaging, the execution left a lot to be desired. You only use the Circle Pad, which I found too sensitive to play properly. Even the slightest nudge in any direction sends your object speeding toward the well's edge if you're not careful. I would've preferred a control method that used the bottom touch screen, as it's not used for anything other than displaying the control method, and what the donuts and balloons do. The recycling of obstacles throughout the game's 10 wells, which you can blow through within an hour, also hurts the presentation. You can unlock eight other objects to throw into the well, but in my experience with the game, they offer little to no benefit in terms of getting to the bottom any faster than the default rock.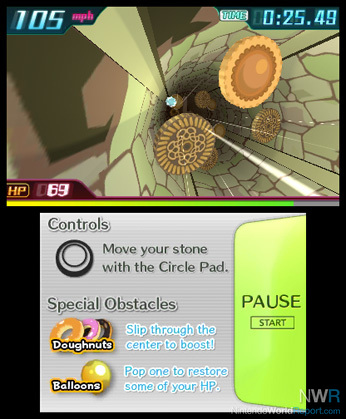 The game's visuals are solid, but the glasses-free 3D got in the way of sensing depth, due to the motion lines constantly traveling upward, not letting me properly see what was coming. Kersploosh! also uses only one techno song for every stage, and while the fast-paced track works to illustrate free fall, it's nothing memorable.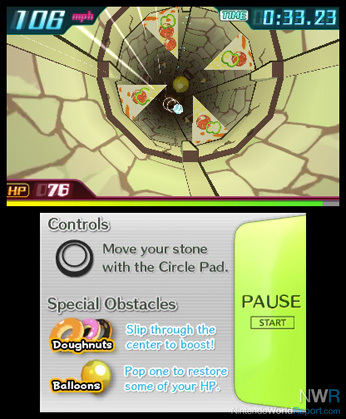 Kersploosh! has some opportunities for fun, but the game is over before its concept gets a chance to shine. I'd love to see a more fleshed out version of this unique game in the future. Until then, I'll be tossing quarters into the local wishing well to see if that'll ever come true. Let's hope they get past all that pizza.