Welcome to the Fantasy Zone... in 3D!
This Space Harrier remake is based on the game's arcade version, in which digitized voices greet you with classic lines such as ''Welcome to the Fantasy Zone!'' The game takes place in the Fantasy Zone, a weird wasteland that you guide your character through. Space Harrier is a third-person shooter at heart, with the player following a strict path in every level. The player tries to defeat an array of enemies, like gigantic dragons, old prehistoric creatures, and various invading aliens. At the end of every stage, a boss tests your skills to see if you can handle the next brightly colored world. Even with age, the gameplay style holds up, and is quite a spectacle.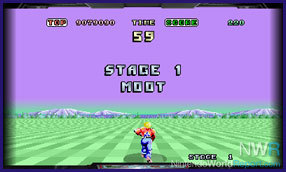 The 3DS version duplicates the precise control of the arcade classic. Players can use the Circle pad and buttons, or use the touch screen to move the character around and have him automatically fire on enemies. The latter option should allow newcomers to ease into the game's difficulty, and give veterans a new way to experience the game. Players can also tweak various settings to get the difficulty, screen size, and audio levels to their liking.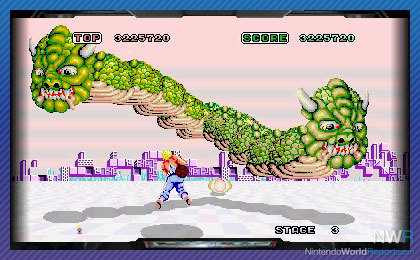 The game comes with added features, including the ability to select a starting level, and to save your progress at any time. The only notable gameplay omission of this version is that of any shared leaderboards. The game's original aesthetic lends itself well to the addition 3D, and does a splendid job of presenting the depth of each plane. There used to be an arcade cabinet that would move alongside the movement of the joystick, and the 3DS version duplicates that feel exactly. You can even add button sound effects to relive those good old days.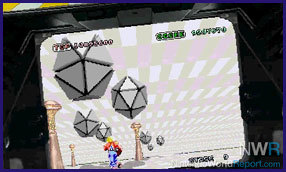 It seemed like a risk for Sega to take the 3D Classics approach, but this version of Space Harrier excels in every way. Its iconic gameplay remains intact, complemented by smooth controls and crisp 3D visuals, and the array of options makes it a more worthwhile version of the classic than any of its other releases.