Every princess has a code.
If you haven't read our site since before E3, you might not know that Atlus is releasing an interesting brawler/RPG hybrid on October 9 called Code of Princess. I've written about it before. It was my Handheld Game of Show (hell, now that I think about it, it might have been my Game of Show).
The game presents an interesting evolution of the usual beat-'em-up genre as well as beautiful visuals, catchy music, and animated cutscenes. You will go into Code of Princess thinking it must be based on an anime or a manga or some combination of the two, but it is, in fact, a wholly original property—which makes it even more special.
The story seems largely inconsequential: a gorgeous blonde princess named Solange and her merry band of misfits sets out to take back the world from evil monsters that are overrunning it. Standard fantasy fare, I suppose, but I suspect the plot will be complicated somewhat in the actual game.
COP has you choose from among several characters, each of whom has his or her own particular strengths and weaknesses, to take through a sidescrolling brawler stage, battling enemies both large and small. One character is an Egyptian cat complete with a pharaoh headdress, so this game very well could be completely bonkers.
Once locked into an area, you'll need to prioritize certain enemies, and each area is further delineated into three planes. This is a bit like Shantae: Risky's Revenge, in which the player can freely move between the planes. Characters can block, dodge, and attack, and each character performs differently. You are rewarded for your efforts with new equipment and experience—hence the RPG element.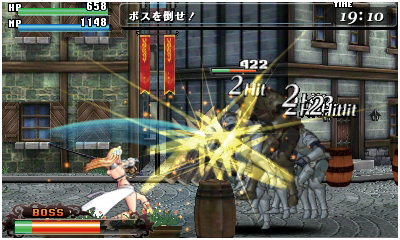 Once you have leveled yourself up enough in the single-player mode, you can take Code of Princess to multiplayer town. We're talking up to four-player co-op, here, people, both local and online. And once you have gotten your fill of killing sandbag people and giant vegetables, why not soak in some PvP action? Yup, Code of Princess goes that extra mile too. The co-op mode features over 100 unique goals (quests) and a PvP mode!
As you play through the game, you'll unlock more than 50 characters, most of which are enemies from the game. Code of Princess looks to have a ton of content, and it hits shelves on October 9th—hey, that's right around the corner! If you preorder from Amazon or GameStop, you'll nab an art book and CD soundtrack, too.