Mario returns to the deep reaches of spaces, and brings Yoshi along for the ride.
The first Super Mario Galaxy, released in November 2007, became one of the most well received titles of the year due to its gameplay design, Wii controls, soundtrack, and graphics. At last year's E3 press conference Nintendo announced the follow up, Super Mario Galaxy 2, the first-ever direct sequel to a 3D Mario game. And based on the recent Nintendo Media Summit information, it looks to continue that tradition in a grand manner.
The overall gameplay remains the same as in past 3D Mario titles. Mario's main objective is to collect stars by visiting various planets. These planets will offer various degrees of challenge, many of them involving gravity and flight as part of their obstacles. The more stars you collect the more levels are unlocked, eventually leading to the climatic final battle with Bowser. Based on the recent media, the planets will retain their charm and creativity while offering players the challenge 3D Mario games are known for. Some of these include a planet shaped like Mario's head, while another had ghostly Mario clones following Mario. There's even a planet featuring giant enemies and platforms, similar to Giant Land from Super Mario Bros. 3.
Gravity will once again contribute to Mario's challenges. Players will have to use gravity to access new areas of a planet and try to avoid obstacles, often caused by these sudden gravitational changes.
Bosses will also play a big role in Mario's galactic adventure. A dragon boss character chasing Mario around the planet was seen in the newest trailer, and Bowser Jr.'s robot walkers will return to threaten Mario once more.
In terms of control, Galaxy 2 will feature a scheme similar to the original. Players will move Mario with the Nunchuk's analog stick, while a shake of the Wii Remote will make him perform a spin attack. In some stages, players will use the Wii Remote pointer to navigate Mario through various gravitational orbs.
The biggest addition to the 3D formula, however, is Yoshi. While he was playable in Super Mario Sunshine, Super Mario Galaxy 2 is the first 3D game in which Yoshi will be used extensively for platforming purposes. As he did in Super Mario World, Yoshi will serve as Mario's main method of transportation, using his long and sticky tongue to help Mario access new areas. Yoshi can also attack enemies by grabbing them and shooting them at other enemies.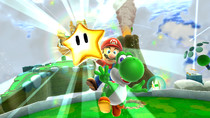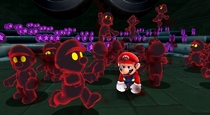 Like in Super Mario World, when Yoshi eats special food, he will change colors and gain new abilities. When he eats the Dash Pepper he will be able to run at a fast speed for a limited time, helping Mario overcome obstacles that would have been impossible for him and Yoshi in a normal state, such as steep inclines and vertical walls. When Yoshi eats a Blimp Fruit, he will inflate like a balloon and float to new areas, serving a similar purpose to Mario's Bee Suit in the first title.
Alongside Yoshi, Mario will also be using a new Drill power-up. With this gigantic drill Mario can tunnel through the planet and land on the other side and go inside the planets to find coins and other items. The drill will even be useful in one of the boss battles (as seen in the Nintendo Media Summit Trailer). The power-ups seen in the original game, such as the Bee Suit, will return in the sequel. For a bigger challenge Nintendo is including Comet Metals. When collected these metals, you will be able to unlock harder levels for experienced players.
In terms of graphics and sounds, Super Mario Galaxy 2 is just as gorgeous as the first time thanks to some very detailed textures, creative level designs, and charming characters. The music will once again be fully orchestrated while retaining the classic Mario themes. Not much is known about Galaxy 2's story, but it's expected that Princess Rosalina, Mario's guide and mother figure to the Lumas in the first game will return alongside the Lumas, who will once again aid Mario in his new adventure. However, in an interview, Shigeru Miyamoto stated that very little focus would be placed in the story.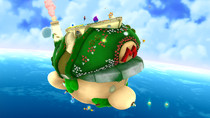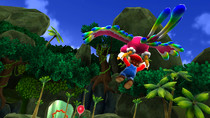 Miyamoto also promised that 90 percent of the game is new, featuring elements that were eliminated or couldn't be implemented in the original title. He stated that "Really what we ended up with is more than 90 percent of what you'll see in Galaxy 2 is brand new. I'd say closer to 95, maybe even 99 percent."
Super Mario Galaxy 2 will be released on North America on May 23, 2010. European players will see the game in June 2010 while a release date for Japan has yet been announced.