by Alex Osborn - 6:40 am EDT
Total comments: 15 Source: Twitter (Lucas Thomas)
You may want to consider investing in a Peach amiibo, Mario Kart 8 fans.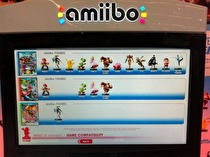 The game compatibility list for Nintendo's lineup of amiibo figures has apparently been outed, revealing new information on which figures will work with Mario Kart 8.
According to a photo taken of a demo kiosk, the Mario, Peach, Yoshi and Donkey Kong figures will all be compatible with Nintendo's... Read more...