by Jon Lindemann - 7:53 pm EDT
Total comments: 4 Source: Andriasang.com
Nintendo's Japanese rewards program offers an awesome collection of t-shirts to choose from.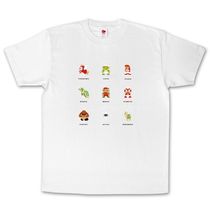 Nintendo's reward program in Japan, Club Nintendo, is notorious for getting some of the coolest Nintendo-related swag in the world. This trend continues with its recent introduction of limited edition Club Nintendo t-shirts.The t-shirts come in four colors (blue, yellow, grey, and white) and have two...
Read more...