This list is pretty sus, and we're not just saying that because it has an Aspyr game.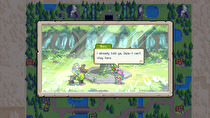 Other 3rd party announcements from today's Direct:
Wargroove 2, the strategy sequel console exclusive to Switch, will be out on October 5.
A closed beta for NCSoft-developed 3x10 battle arena game Battle Crush will be available in October with a full launch planned for 2024.
Also due in October is "The Fungle", a free update to Among Us that adds a deserted island map among other items.
A pair of League of Legends universe games were revealed with the first to launch a co-op RPG Song of Nunu on November 1, and the farm sim free space would be checked by Bandle Tale in 2024.
Konami revealed Super Crazy Rhythm Castle, a multiplayer rhythm game with famous music tracks from their history, would be available November 14.
A standalone DLC for Eastward called Octopia will be available this holiday.
Digital preorders have opened for January 18's Prince of Persia: The Lost Crown, and they will include cosmetic DLC based on Prince of Persia: Warrior Within.
The embattled Aspyr Media announced a remastered collection of the original 3 (1995 - 97) Tomb Raider games would be available on February 14, with an option to switch back to the polygonal graphics of the 90s if desired.
Atlus and Vanillaware (Muramasa, Grim Grimoire) will team up again for the strategy RPG Unicorn Overlord on March 8.
Eiyuden Chronicles: Hundred Heroes, the Kickstarted Suikoden spiritual successor that originally targeted a Switch successor, revealed a launch date of April 23.
A life sim based on the popular anime SpyxFamily called Spy x Ana: Automated Memories will be available next year.
SaGa: Emerald Beyond sets six new heroes into the inscrutable systems of the SaGa series in 2024 as well.
WayForward will return to the Contra series for the first time since 2007 in Contra: Operation Galuga, a four-player Contra reimagining due in 2024.
The Japanese Direct confirmed new details on the latest project from Onion Games (Moon: Remix RPG Adventure) called Stray Children: it has been announced for localization by Onion through their newsletter but no details are available.