Many new first party trailers, though not as much in the way of new information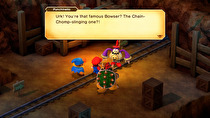 Quick updates to previously announced Nintendo games from the Direct:
Detective Pikachu Returns (October 3) added a new Pokemon to the partner lineup in Luxray, who can see through walls and joining Growlithe and (Galarian) Darmanitan. A specific window beyond "winter" was not given for The Indigo Disk DLC for Scarlet and Violet
WarioWare: Move It (November 3) showed off the game's "forms" and confirmed the presence of over 200 microgames, as well as a four player mode.
New aspects of the battle system for the Super Mario RPG remake (November 17), including timed hits damaging all enemies and a meter that allows for different whole-party attacks when filled. Additionally, boss rematches will be offered in the postgame, and the familiar Culex superboss fight appears to be returning.
The Luigi's Mansion: Dark Moon remake is now known as Luigi's Mansion 2 HD, and will be available in summer of 2024.