Is it any worse than stopping to talk about the Mario movie?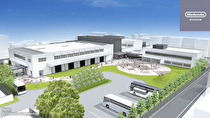 A brief interruption of the Direct announced that Nintendo is planning to show off more of their history.
After showing off a Mario ? block design on the roof, it was confirmed that a "museum" will be a part of a new Nintendo building in Kyoto, and is targeting a launch by the end of March 2024. According to Nintendo, it will contain "a wide variety of products from Nintendo's history".
The museum will be based out of a renovated console repair facility that was closed in 2016 known as "Nintendo Uji Ogura Plant".