This is really going to jack up her Smash moveset.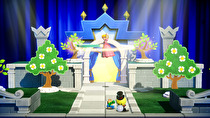 The "untitled Peach game" is not only titled, it's also been dated.
Originally announced in June's direct, the Peach-starring game was shown today as "Princess Peach: Showtime" and will launch on March 22. In the game, Princess Peach can don various costumes including a patisserie (baker), detective, and swiordfighter in order to save areas from an evil gang.