We'll be over here folding origami.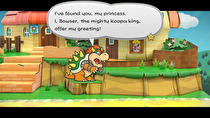 The most beloved Mario RPG since the original is getting a 20th anniversary touch-up.
Paper Mario: The Thousand Year Door HD was the "one more thing" of today's Nintendo Direct, announcing a 2024 release. The original title released in 2004 on the GameCube, and the remaster trailer did not make any announcements of additional content.