Tower defense check, platformers check, side-scrolling strategy check, card RPG check... yep, that was the next step.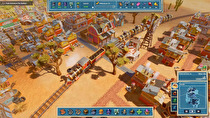 The SteamWorld series is taking aim at yet another genre before the year is out.
SteamWorld Build, which adapts the steampunk/cowboy hybrid aesthetic to a city builder, has revealed a launch date of December 1 as part of Gamescom. The trailer is below:
Elements of earlier games in the series - specifically hiring bots to mine materials and setting up towers to defend against monsters - will appear in a modified form in Build.