Do you want to dance with the dinosaurs, or are you taking your money to see a star war?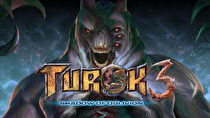 Nightdive Studios have announced a pair of first person shooter remasters that cover a couple of forms of science fiction.
To coincide with Gamescom, Nightdive have confirmed remasters of Star Wars: Dark Forces and Turok 3: Shadows of Oblivion for release: Dark Forces does not have a confirmed release date, but Turok 3 will be available on Switch November 14. Both remasters will be developed in the company's "Kex" engine.
Dark Forces (1995) released for DOS and Mac OS version 7, and was a first person shooter in the vein of Doom. The remaster promises remastered "cutscenes and content".
Turok 3: Shadows of Oblivion (2000) was developed by the former Iguana Entertainment (then known as Acclaim Studios Austin) and was the capper to the N64 trilogy of single player first person shooters. It should not be confused with the multiplayer-focused Turok: Rage Wars released the prior year.