Nice to see even with the Summer Game Mess, we still have light weeks in June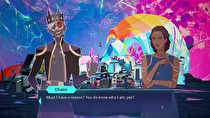 Things we missed last week: Nintendo Direct veteran Harmony: Fall of Reverie on Thursday, as well as Bravoman from Namco in the Archives.
Since this week is apparently all about the upcoming releases, there's not a lot sitting on the docket to actually... y'know, come out this week. Obviously my proclivities lean toward high school Sweet Polly Oliver sim Jack Jeanne (or if you're in Japan, a high school AU version of the Meiji Restoration's police force), though we did get word that Fall of Porcupine is (finally) coming out this week. There's also the long awaited Alchemic Cutie, and Indie World spotlight game Dordogne.
Since it's not confirmed, a heads-up: The PAL territories got Nintendo's annual pre-summer sale this past week, and traditionally Nintendo starts the same sale on the Tuesday that would be the first day of E3 back when it was alive.
North America
Retail
Jack Jeanne (US$49.99/C$67.42)
Digital
Gramik Paint Roller ($30.00/$40.00)
Dordogne ($19.99/$26.99: Tuesday)
Fall of Porcupine ($19.99/$25.99)
Birdie Wing -Golf Girl's Story- ($19.99)
Alchemic Cutie ($19.99/$27.24: Friday)
nPiano ($18.99/$25.84: Friday)
Stay Out Of The House ($17.99/$24.99: Friday)
Ghost Files: The Face of Guilt ($14.99/$19.49)
Summer Daze: Tilly's Tale ($14.99/$19.99)
Cave of Past Sorrows ($14.99/$20.30: Friday)
Forest Golf Planner ($12.00/$15.00)
Tails of Trainspot ($11.99/$16.28: Friday)
QUByte Classics: Beat 'Em Up Archives ($9.99/$12.99)
Wolf Simulator ($9.99/$14.99: Friday)
The Fairy's Song ($9.99/$13.99: Friday)
Sqroma ($8.99/$11.79: Monday)
Lost Lands: Sand Captivity ($6.99/$9.30)
ProtoCorgi ($6.99/$7.99)
Brave Soldier - Invasion of Cyborgs ($4.99/$5.99: Wednesday)
Hoppy Hop ($4.99/$6.49: Friday)
Pandemic: 1993 ($4.99: Friday)
Archives
Megablast ($7.99/$9.87)
Sales and Price Drops
Highlights: A major Capcom sale is on until the 26th, and a NIS America sale until the 18th includes 90% The Lost Child (which will be delisted at the end of the sale). God Wars: The Complete Legend also gets delisted on August 30 . PSPrices, DekuDeals
Europe
Retail
Jack Jeanne (€49.99/£44.99)
Digital
Gramik Paint Roller (€30.00/£26.99)
Dordogne (€19.99/£15.99: Tuesday)
Birdie Wing -Golf Girl's Story- (€19.99/£17.99)
Fall of Porcupine (€19.99/£17.99)
Alchemic Cutie (€18.22/£16..01)
Stay Out Of The House (€17.99/£14.49: Friday)
Ghost Files: The Face of Guilt (€14.99/£13.99)
Summer Daze: Tilly's Tale (€14.99/£13.49)
Anime Beauty Girl Puzzle (€14.99/£14.99: Friday)
Cave of Past Sorrows (€14.99/£13.49: Friday)
Forest Golf Planner (€12.00/£10.79: Wednesday)
Tails of Trainspot (€10.99/£9.89)
The Fairy's Song (€9.99/£9.99)
QUByte Classics: Beat 'Em Up Archives (€9.99/£8.99)
Wolf Simulator (€9.99/£9.99: Friday)
Sqroma (€8.99/£8.99: Monday)
Lost Lands: Sand Captivity (€6.99/£6.29: Wednesday)
ProtoCorgi (€6.99/£5.49)
Brave Soldier - Invasion of Cyborgs (€4.99/£4.49: Wednesday)
Annalynn (€4.99/£4.29)
Hoppy Hop (€4.99/£4.49: Friday)
Archives
Megablast (€6.99/£6.29)
Japan
Hakuoki SSL -Sweet School Life- (¥7150)
Love With God (¥6380)
Gramik Paint Roller (¥4000)
Car Drag Racing Simulator (¥2700)
Birdie Wing -Golf Girl's Story- (¥2600)
The House Of The Dead: Remake (¥2599)
Dordogne (¥2480: Tuesday)
Stay Out Of The House (¥2400)
Cave of Past Sorrows (¥2076)
Summer Daze: Tilly's Tale (¥1900)
Cavity Busters (¥1500)
Forest Golf Planner (¥1500)
Tails of Trainspot (¥1480)
QUByte Classics: Beat 'Em Up Archives (¥1291)
Ghost Files: The Face of Guilt (¥990)
Terrifying and Scary Urban Legend (¥980)
Lost Lands: Sand Captivity (¥910)
Megablast (¥838)
The Game Paradise (¥800)
ProtoCorgi (¥799)
Counter Bunny Hop (¥580)
Brave Soldier - Invasion of Cyborgs (¥500)
Pandemic: 1996 (¥500)
A Little Study (¥420)