"The battle count is three to one. The battle has become one-sided." Yeah, that happens when you only have rentals.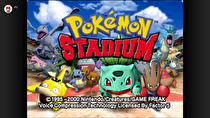 A brand new (old) Stadium is opening on Switch Online next week for Expansion Pack holders.
Pokemon Stadium (aka Pokemon Stadium 2 in Japan) will launch into the Expansion Pack N64 library on April 12, according to a new trailer released by Nintendo. The game will feature four-player battling options and minigames as well.
Although the original Nintendo 64 game was packed in with the Transfer Pak that allowed for data from the first generation of Pokemon games to be imported following its 2000 release, the NSO release does not currently support this capability.