As was said so blithely about Mighty No 9 3DS earlier this week... bye, Felicia.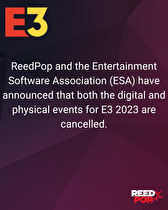 What has been obvious for days is now official: E3 2023 is cancelled.
Following confirmation of cancellations from major industry players including the last console manufacturer standing in Nintendo as well as Ubisoft and Sega, IGN has confirmed that the fourth attempt to hold the beleaguered event in person this decade has met the same fate as the other three; cancellation. Members of the ESA were notified this morning by email, which notably did not mention plans for a return in 2024 or future years.
The show had attached themselves to annual video presentations such as the Mix Indie Showcase, its accompanying Black Voices In Gaming broadcast, and the PC and Future Gaming Shows; there is no word on if these presentations will shed the E3 branding as well. After splitting from the ESA in 2020 prior to the cancellation of that year's E3, veteran games industry writer Geoff Keighley has already confirmed the 2023 return of "Summer Games Fest" with an "Opening Night Live" presentation on June 8 and press demos in Los Angeles the following week.
UPDATE 9:00 pm EDT: In a tweet, the E3 also announced the "digital" portion of E3 is also cancelled, implying the shows will not be cobranded as "E3".
News on #E32023 from the source. pic.twitter.com/BK7TUlb8mZ

— E3 (@E3) March 30, 2023