Remember kids, always check your trademarks.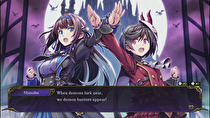 A game released on February 23 was recently removed from the North American eShop, and it turned out to be due to a name change.
Inti Creates have announced a new name for their action game that released on February 23. Previously known as "Grim Guardians: Demon Purge", it was quickly pulled from the eShop and upon its return in English-speaking countries it will be known as "Gal Guardians: Demon Purge". The reason for the change was due to a trademark complaint from the makers of the tabletop RPG "Grimguard", which also has a mobile version available.
Regardless of the name, Jordan Rudek gave the action title an 8 in his recent review.