...surprising Flashback never came out on the Game Boy Color, but this may be the next best thing.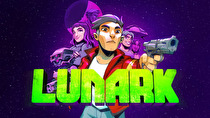 The end of March will see a unique take on the cinematic platformer hit the eShop.
Lunark, a previously Kickstarted game that began as mockups of a Game Boy Color version of the classic Flashback, was confirmed for launch on March 30. Details on the game were given in a developer video posted on GameXplain.
WayForward will be publishing the game as announced at the last Limited Run Games presentation, where a physical release was also confirmed - though no date has been announced for the preorders.