If they keep removing info from the release we'll have to bring my Pointless friend Richard in for the proceedings.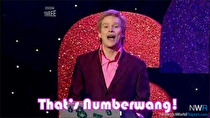 The monthly sales survey from the NPD Group has ended a six year tradition with the January report.
All rankings/data based on dollar sales in the United States from January 1 - 28; third parties may elect to contribute eShop sales data as applicable.
The first hardware race of the year went to the PlayStation 5 in both unit and dollar sales, with the Switch taking second in both rankings ahead of the Xbox Series. Increased retail availability of the PS5 was noted through January. The Switch was up year-over-year based on revenue compared to 2022 (with the launch of Pokemon Legends: Arceus), though no mention of unit sales may indicate a shift in Switch preferences toward the $350 OLED model rather than the Lite or standard.
Nintendo had one hardware debut in the period, and Fire Emblem: Engage took 5th in the combined survey, trailing the remake of 2008's Dead Space among new releases but pulling ahead of Forspoken from Square Enix (7th) and One Piece: Odyssey from Bandai Namco (9th) without the benefit of listed digital sales. Other first party titles in the top 10 were Pokemon Scarlet and Violet (10th) and Mario Kart 8 Deluxe (14th), while third parties included FIFA 23 (4th), the embattled Sonic Frontiers (12th), Monster Hunter Rise (13th, due to launching on PlayStation and Xbox platforms), Minecraft (15th), Just Dance 2023 (17th), and NBA 2k23 (18th).
For the first time since the November 2016 survey (released in December), individual platform top 10s were not provided.