Retro Studios led the charge on the remake of their 2002 release, but a variety of outsourcing companies also helped with development as well.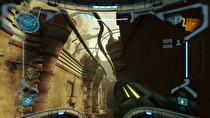 The surprise announcement and release of Metroid Prime Remastered during the Nintendo Direct on February 8 brought up a few questions alongside the delight of the shadowdrop. Retro Studios was announced as the developer of the remaster, but what does that mean for the development of Metroid Prime 4, which Retro started development on around early 2019.
It appears that Nintendo and Retro Studios had some help to bring out Metroid Prime Remastered, most notably from Iron Galaxy Studios, a developer who worked on Switch ports for Skyrim, Diablo III, and Overwatch (as well as their own original games like the Rumbleverse and Divekick). In addition to Iron Galaxy, the following support studios were also all listed in the credits for Metroid Prime Remastered: Airship Images Limited, Atomhawk Design, CGBot, Gamesim Inc, Liquid Development, Original Force LTD, Shanghai Mineloader Digital Technology, and Zombot Studio.
In looking through the new credits for Metroid Prime Remastered, which notably do not include the original credits for the GameCube or Wii game (but do offer a broad credit to the teams who worked on those games), it's notable that a handful of the credited developers started at Retro Studios after the January 2019 announcement that Retro Studios was taking over development of Metroid Prime 4. Additionally, some of the credited developers left Retro Studios within the past two years. It is unknown the exact breakdown of what Retro staff is working on what game and when, but there's a decent chance that some of the new hiring at Retro Studios in the past few years might have been to support Metroid Prime Remastered as much as they were done to support Metroid Prime 4. For example (according to their respective LinkedIn profiles), Lead Producer Marisa Palumbo was only at Retro Studios from October 2020 to October 2021, Senior Art Director Jhony Ljungstedt started at the company in February 2020, and Art Producer Beverly Garland started in July 2020.
Metroid Prime Remastered is now available on the eShop and is releasing in stores physically later this month. Metroid Prime 4 is still in development with no announced release window.